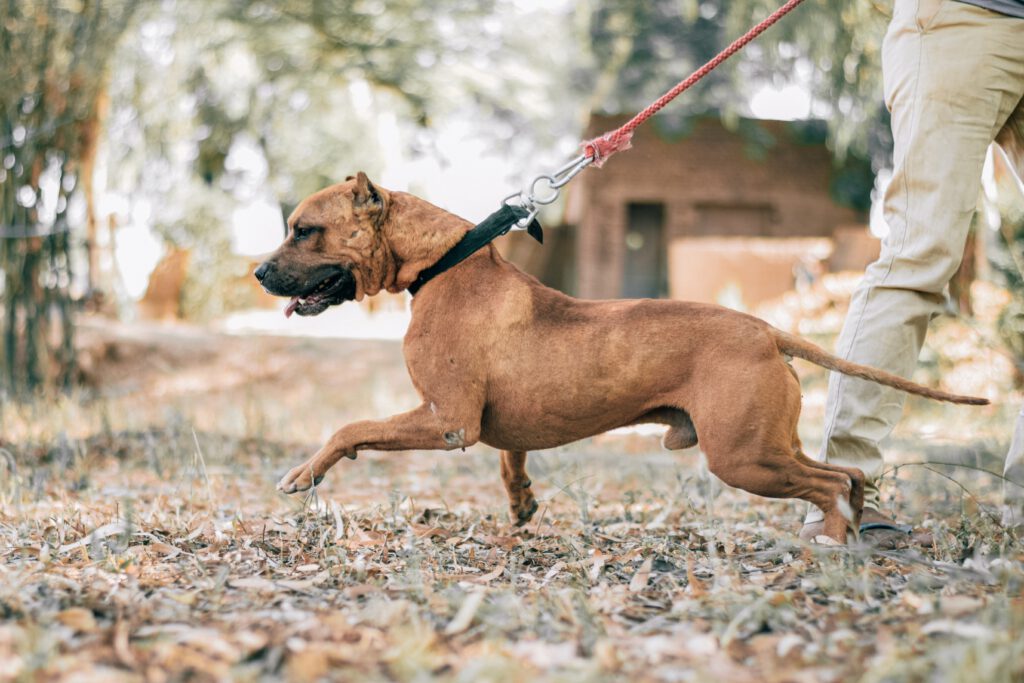 As dog owners, we know how much our pups enjoy a good walk. The fresh air, the smells… the squirrels! Your dog will happily pull on his leash to explore, leaving you with a question: what are the best dog leashes for large dogs that pull?
Why do Dogs Pull?
Dogs are naturally curious and want to explore their environment. They follow their ultra-sensitive noses to interesting new scents, eagerly pulling their owners along for the ride.
But if owners do not understand proper leash training, they may inadvertently teach their dog to continue pulling. When the owner tries to control the dog by pulling on the leash, the dog will reflexively tug back. The dog eventually learns that pulling is required in order to move forward and explore.
It may seem that large dogs are especially prone to pulling on their leash. But all breeds exhibit this behavior.
How to Choose the Best Leash for a Large Dog that Pulls
Due to their size and strength, a large dog's pulling habit presents a greater risk of injury to his owner. This means you should consider all features before buying the leash.
Size
You will notice that some leashes are offered in multiple sizes. One size may be designed for toy and small breeds and another is intended for large and giant breeds.
What's the difference actual difference between these leash sizes? A leash made for larger dogs will often have a thicker width. This can be helpful if your dog likes to pull.
Leash length is less relevant. You can use a short or long leash for any size dog, depending on the activity.
Durability
If your dog loves pulling, it's especially important to choose a durable leash.
The leash material should be a sturdy material such as nylon, leather, or polypropylene. The clasp should be made of high-quality metal. If you have any doubts about whether your chosen leash is durable, check the customer reviews.
In some cases, you may need to choose between fashion and durability. All of the leashes chosen for this article are fairly tough, but generally, a metal chain leash is considered the most durable for a large dog with a strong pull.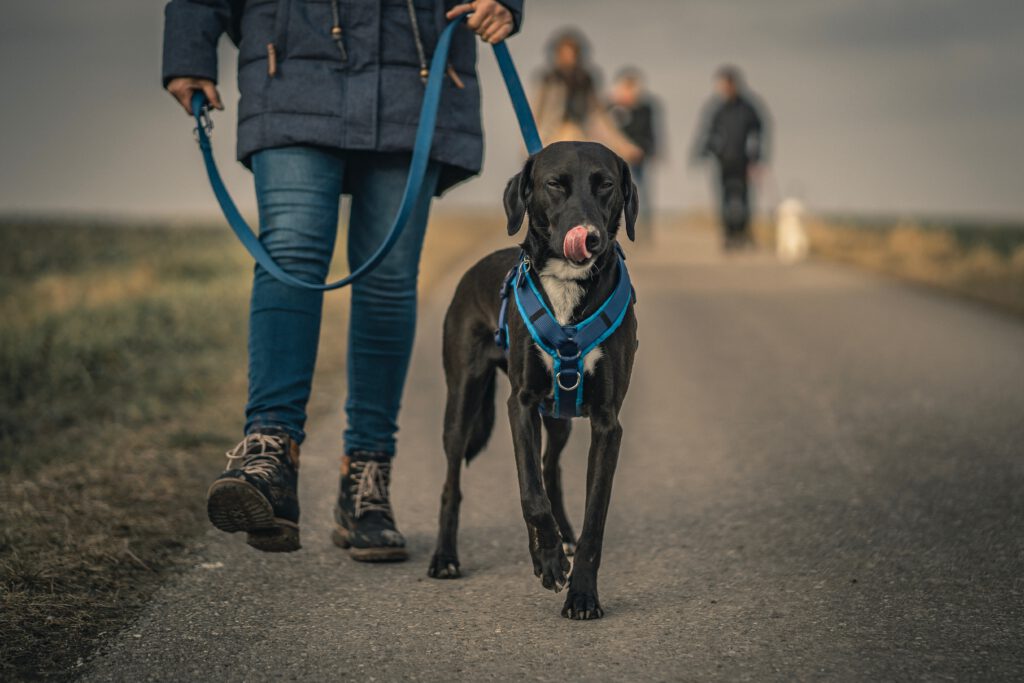 Comfort
Make sure you select a leash that is comfortable for both you and your dog. Many leashes feature soft padding on the handle. This prevents chafing and keeps your hand safe from friction burns.
If your dog is pulling, he will feel some discomfort regardless of the type of leash. Just make sure that it won't hurt or damage your pup. Check the manufacturer's instructions for warnings and intended use.
Safety
To ensure the safety of both pet and owner, consider how and where you will use the leash. A dark leather leash may look nice for daytime use, but if you plan on walking or jogging at night, you may be safer with a brightly colored leash with reflective material.
If your large dog starts pulling you toward traffic in a dark area, you will be grateful for the visibility. Never prioritize fashion over safety when looking for the best dog leashes for large dogs that pull.
Best Large Dog Leashes to Control Pulling: At a Glance
The Best Dog Leashes for Large Dogs that Pull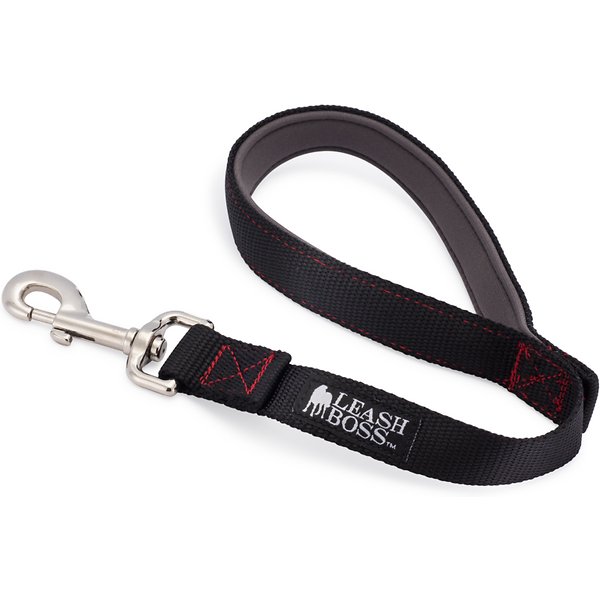 Want to teach your big dog to heel while walking through a crowded street? Need a bit more control in the vet's waiting room?
Consider this short leash from Leashboss. But don't be fooled by its size; this sturdy leash is made of 1-inch black nylon webbing, tough enough to withstand the pulling of any large dog. We also think the red stitching looks pretty cool.
The handle is double-layered neoprene, the same soft material used to make beer koozies and scuba wetsuits. The comfortable, squishy texture will protect your hand from being chafed or burned when your big pup starts tugging.
This leash also features a swiveling clasp that allows a large dog to turn around without twisting or tangling.
Buyer review: "This well made short leash was the answer for keeping our lab close to us while out in crowded public spaces. The padded handle cushioned our hand if she pulled forward."

Read more at Chewy.com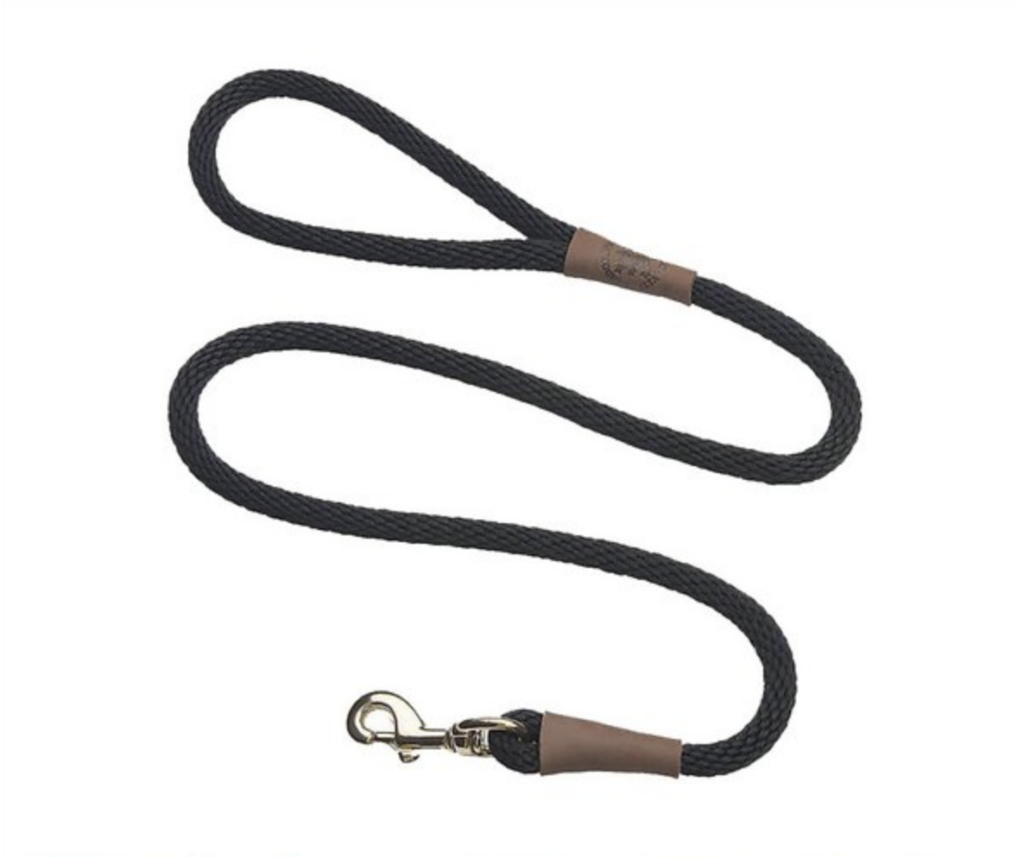 Some leashes just feel right on a large dog.
The stylish Mendota Large Snap Solid Dog Leash is made of oil-tanned leather, heavy-duty metal, and durable polypropylene rope. It's strong enough to control the pulling of any large dog. But it's also soft and flexible, "broken in" like an old pair of jeans.
This leash is designed for dogs that weigh between 50 and 250 pounds. It will help you control your big dog, even when they pull.
Buyer review: "My Bella is an exuberant 17 month old 90 lb American Bulldog. She loves her new leash as much as we do. It's sturdy enough to handle her if she pulls and comfortable in the hand."

Read more at Chewy.com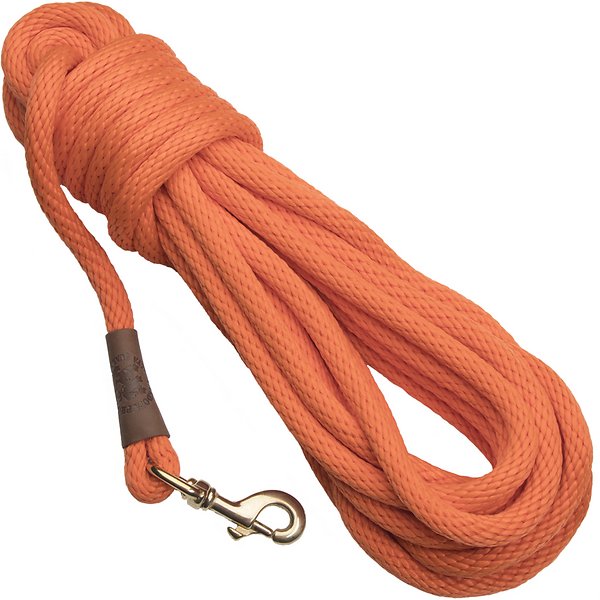 You may want to give your large dog more space to maneuver. But you still want to keep control for training him to come on command. The Mendota Pro-Trainer Check Cord Dog Lead is perfect for this.
This check cord's 30-foot length lets you gradually give your pup more space as you train them. And it's made from multi-filament polypropylene rope, UV-coated to keep it strong and prevent fading. And it's waterproof, so rain and machine washing are both OK.
This leash is made for large and giant breeds. It's great for field training but not as suitable for walking in crowded areas. If your big dog has a habit of pulling, this should help you to train him and regain control.
Buyer review: "This is a thing quality leash. Strong enough to lead a horse or a very large strong dog"

Read more at Chewy.com
When you're getting ready to walk your large dog, you may not know whether you need a short or long leash.
You may want to give your dog more space on an empty trail, but you also want to regain control if your dog pulls when you encounter other people or animals.
The Chai's Choice Trail Runner Multi-Handle Dog Leash has you covered. It has five handles, allowing you to adapt to any situation when walking or running with your dog. The top handle is padded with neoprene, keeping your hand comfortable and chafe-free.
A nice safety bonus is the bright color and reflective 3M stitching, which help keep you and your dog visible in low light.
Buyer review: "This leash is perfect for the dog who loves to pull. The various openings offer multiple control levels when my dog starts pulling. Then I can relax the tension on the leash as my dog relaxes."

Read more at Chewy.com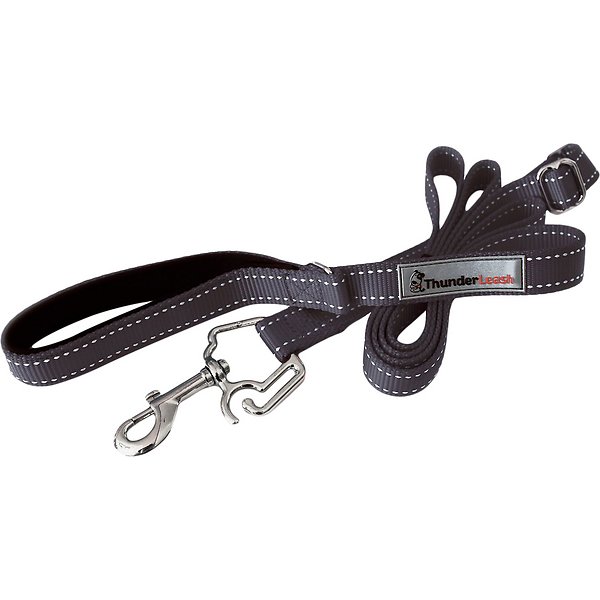 Leashes are great for keeping your big pup safe from traffic and other hazards. But what if you want to train your large dog to stop the constant tugging?
ThunderLeash is designed to teach your dog to avoid pulling. When he pulls, gentle pressure is applied to his torso. This safe feedback mechanism will help train him to stop dragging you around, making this one of the best dog leashes for large dogs that pull.
This leash comes in multiple sizes, so be sure to select the appropriate item. The Medium/Large size is 7 feet long and 1 inch wide, great for moderately large dogs who weigh up to 100 pounds.
Buyer review: "Love this leash and wish I had found it sooner. Jasper pulls me everywhere but this high quality leash helps a lot. Crazy easy to use plus it's versatile. Buy it!"

Read more at Chewy.com
FAQ
Do retractable leashes work for large dogs?
You may be considering a retractable leash. They can quickly adapt to any required length and are easy to store.
However, there are many disadvantages to consider. If your dog starts chasing a squirrel, he could enter an unsafe area before you have a chance to engage the lock. And if the leash fully extends while your large, strong pup is running at full speed, you could suffer whiplash or be injured by a snapped cord.
For these reasons, we do not recommend rectractable leashes for large dogs, especially if they are not properly leash trained.
How long should a dog leash be?
The length of your leash depends on its purpose and the specific needs of your dog.
If you have a large dog that loves to pull and greet other pets at the vet's office, you may need a sturdy, short leash to control him. But if you're walking or jogging on a secluded trail, a length of 4 to 6 feet would be fine.
And if you're training your dog in a large open space, you could consider a 30-foot check cord to give him more room.
How to stop a dog from pulling the leash?
You have two options to prevent your large dog from pulling: change your training techniques or change the leash.
You can try ignoring your dog while they are pulling. Then, only when they are not pulling, you can give them treats and talk to them reassuringly.
And when the dog is pulling in some direction, immediately walk in the opposite direction. This will teach them that pulling will not get them where they want to go, no matter how large they are.
You can also consider buying a leash with a pull-resistant mechanism. When researching the best leashes for large dogs that pull, you'll find that some contain a harness that is designed to gently squeeze the torso, which discourages the dog from pulling.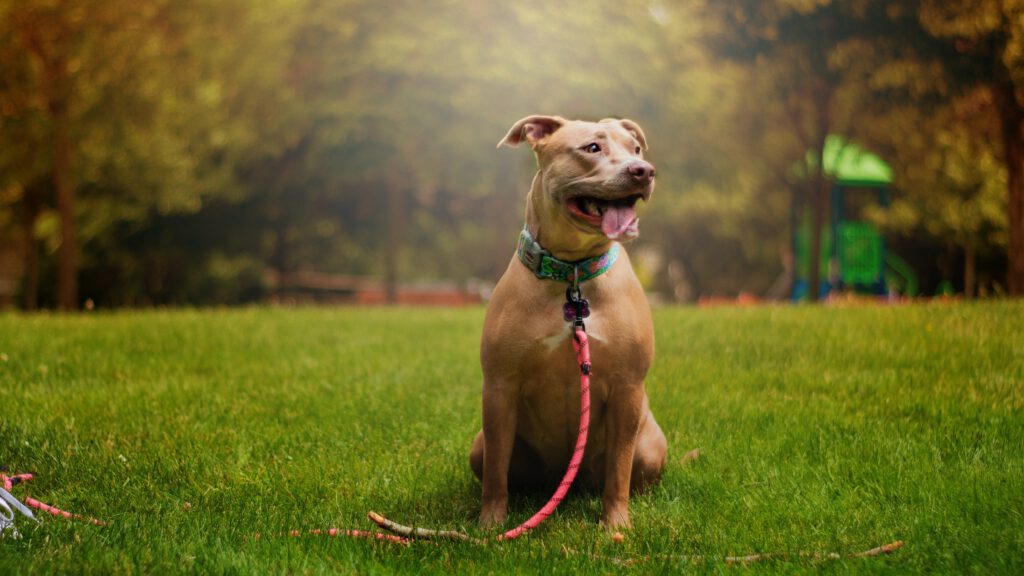 Conclusion
It's important to remember that a leash may not solve all of your dog's pulling problems. You may need to focus on training and reinforcing good behavior. But the right leash can still go a long way during this process.
No one likes getting pulled around by a large dog. We hope this article has helped you decide which leash will help control and correct your pup's pulling habit.