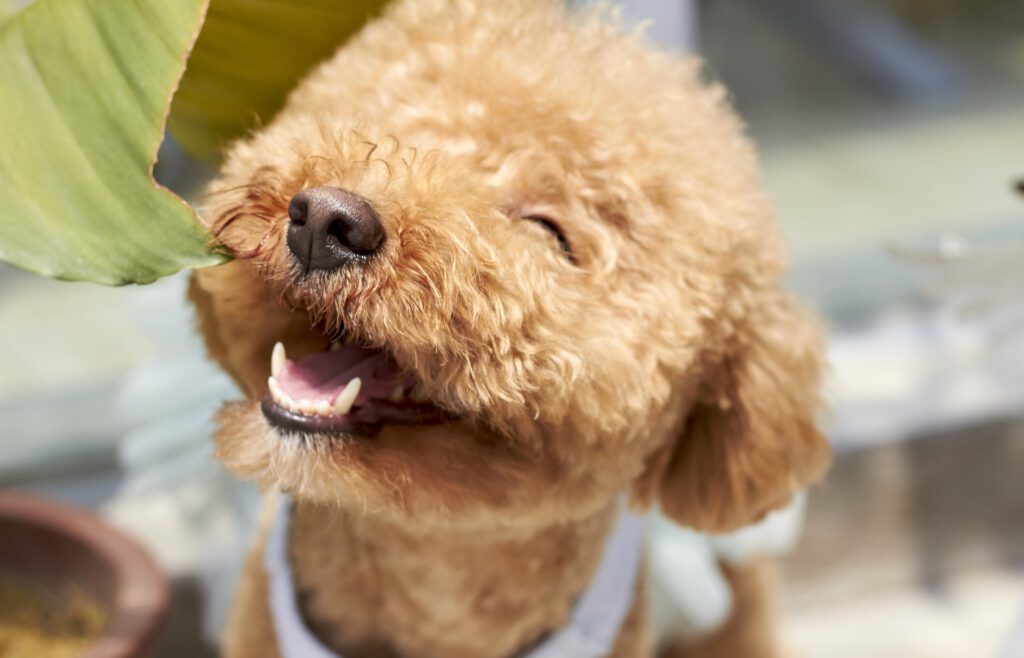 Poodles are a beloved and popular breed of dog known for their intelligence, loyalty, and elegant appearance. As a poodle owner, one of the most important things you can do to ensure your dog's health and happiness is to feed them a high-quality diet.
With so many dog food options on the market, it can be overwhelming to choose the best one for your poodle. Here we will discuss the key factors to consider when selecting the best dog food for poodles and let you know which brands are best.
What to Feed a Poodle
First, let's talk about the most important factors in a poodle's diet. These are the criteria that you should use when selecting a brand of dog food.
Size
Toy and Miniature Poodles
Toy and miniature poodles are the smallest poodle variants. They require a diet that is specially formulated for their size and energy needs.
The best dog food for smaller poodles should be high in protein and contain a balance of essential fatty acids and carbohydrates. Wet food can be a great option for miniature and toy poodles as it is easy to chew and swallow, and it can help keep them hydrated.
Small kibble size is also suitable for these tiny poodles, as they have small mouths and jaws.
Moyen and Standard Poodles
The best dog food for the larger poodles variants (moyen and standard) may have some similarities, but there are also key differences to consider.
Large poodles may require a diet that is higher in protein, fat and calories to maintain their energy levels and muscle mass. Both small and large poodles should get plenty of carbs and fatty acids.
Like the smaller poodles, the moyen and standard poodles will benefit from the hydration and ease of chewing and swallowing that wet food provides.
Protein
Protein is an essential nutrient for all dogs, including poodles. It is important for maintaining and repairing muscle tissue, supporting a healthy immune system and providing energy.
Poodles, as a high energy breed, require higher levels of protein in their diet to support their active lifestyle. Feeding a diet high in protein can also help maintain a healthy weight and reduce the risk of obesity in poodles.
Consuming a diet that is low in protein can lead to muscle wasting, lack of energy and poor overall health in poodles. It is important to choose a dog food that lists a named meat or fish as the first ingredient, as high-quality protein sources.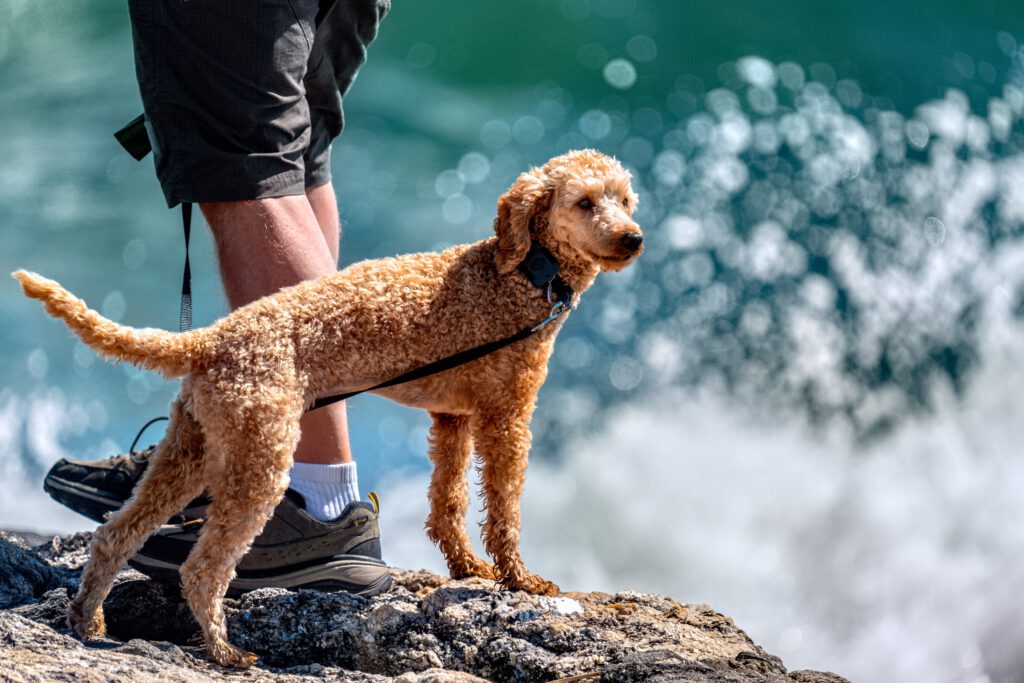 Vitamins and Minerals
Vitamins and minerals are essential for poodles' overall health and well-being. They play a vital role in maintaining healthy skin, coat, teeth and bones. Some vitamins and minerals also act as antioxidants, helping to protect cells from damage caused by free radicals.
A diet that is lacking in certain vitamins and minerals can cause deficiencies that can lead to health problems such as anemia, poor coat quality, and weak bones. Therefore, it is important to choose a food that contains a balance of essential vitamins and minerals to ensure your poodle is getting all the nutrients they need.
A dog food formulated specifically for poodles will include the right balance of vitamins and minerals to meet their specific needs.
Poodles with Digestive Issues and Sensitive Stomachs
Poodles with sensitive stomachs may require a special diet to maintain their digestive health.
The best food for poodles with sensitive stomachs is a limited ingredient diet that contains a single source of protein, such as fish or lamb, and limited carbohydrates. This type of diet can help identify food allergies or sensitivities that may be causing stomach upset. It is also important to avoid foods that contain fillers, by-products, and artificial preservatives which can cause stomach upset.
Consulting with a veterinarian is a great idea, in order to identify the cause of the sensitive stomach and choose the right food that suits your dog.
Age
Poodle puppies have different nutritional needs than adult poodles, so it's important to choose a food that is formulated for their specific life stage.
Puppy food is typically higher in protein, fat, and calories to support growth and development. Puppy food also contains DHA, an omega-3 fatty acid that is important for cognitive development and vision.
Adult poodles require a diet that is formulated to maintain their overall health, so it's best to choose a food that is lower in protein and calories. Adult food also provides a balance of vitamins and minerals that are essential for maintaining healthy skin, coat, teeth and bones.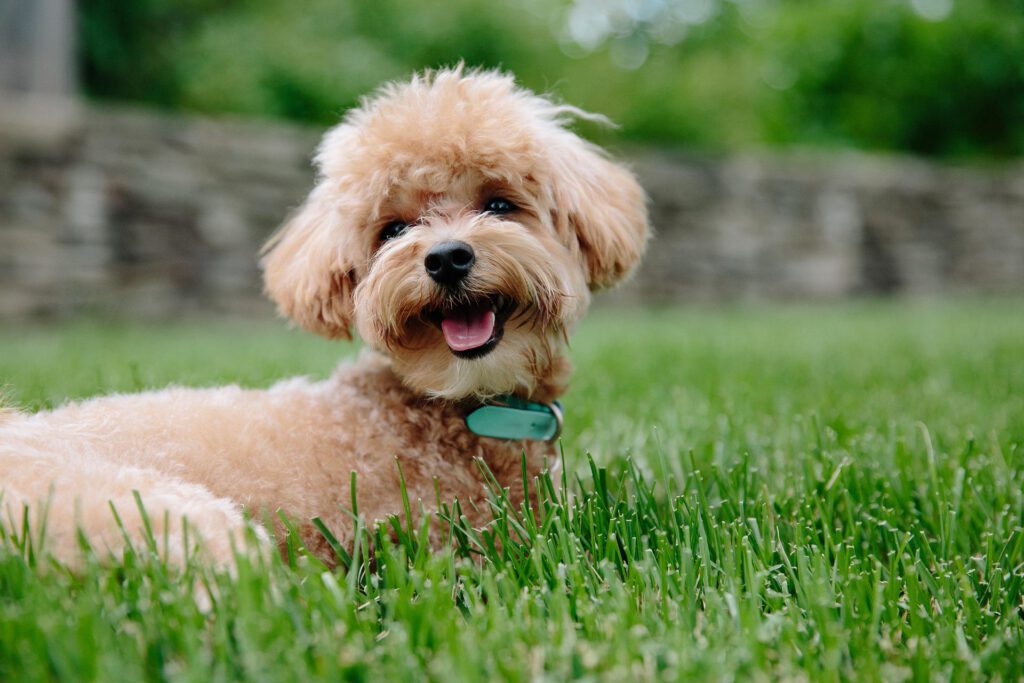 Our Favorite Poodle Foods: At a Glance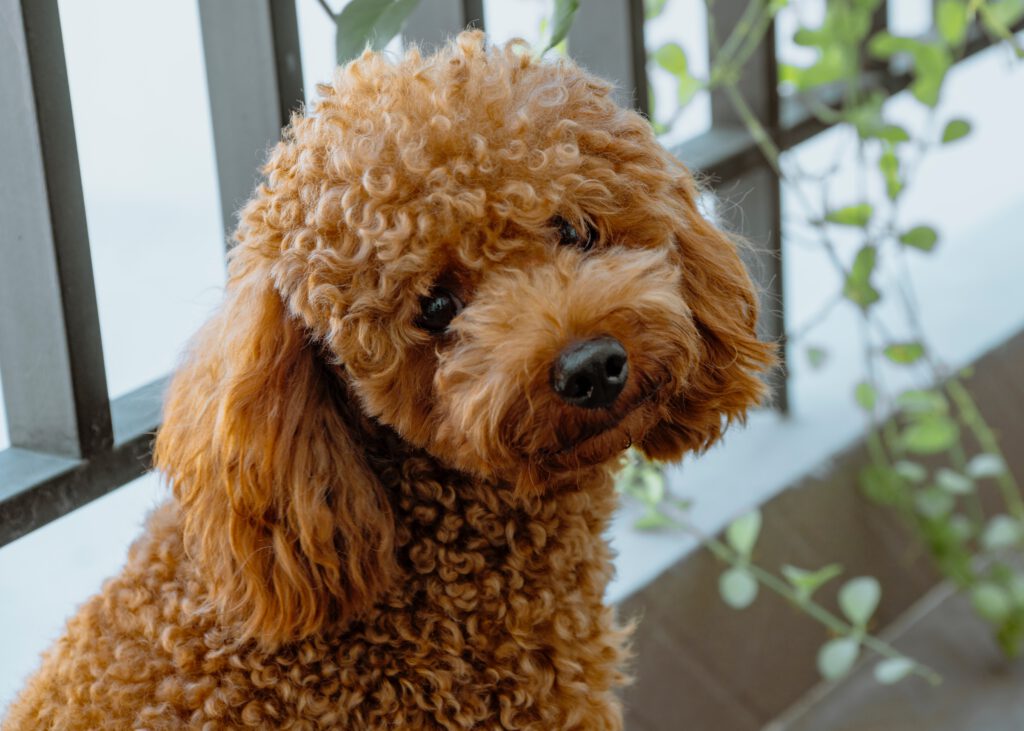 The 7 Best Dog Foods for Poodles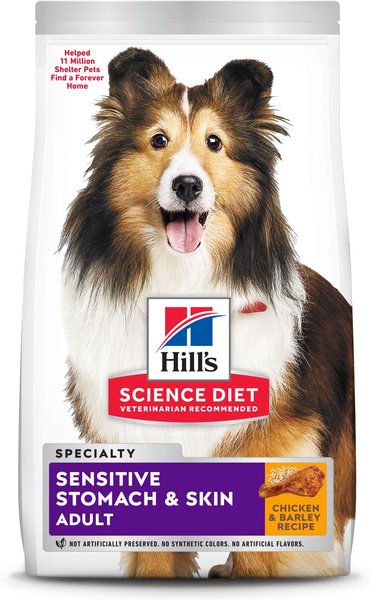 This Hill's Science formula is a high-quality dog food, strongly recommended for poodles by many veterinarians. Chicken, which is the first ingredient in this food, provides most of the 20% crude protein.
In order to enable the best nutrient absorption, this food is made from easy-to-digest ingredients. Beet pulp, a beneficial prebiotic fiber, is one of the natural ingredients used in this kibble.
Additionally, this formula has omega-6 fatty acids and vitamin E to help healthy skin and a beautiful coat. For increased nutritional value, it has also been supplemented with vitamins, minerals, and amino acids.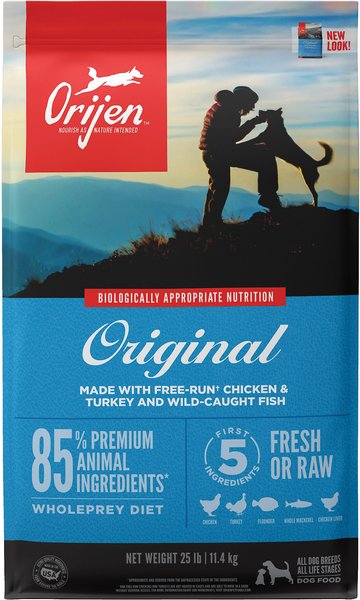 ORIJEN Original Grain-Free Dry Dog Food is a great option for poodles!
This formula is packed with high-quality animal protein from ingredients like chicken, turkey, fish, and various organ meats. With 38% crude protein, it provides a strong source of the essential protein, vitamins, and minerals that your poodle requires.
As a bonus, this food is freeze-dried coated, which will be very appealing to your poodle's taste buds.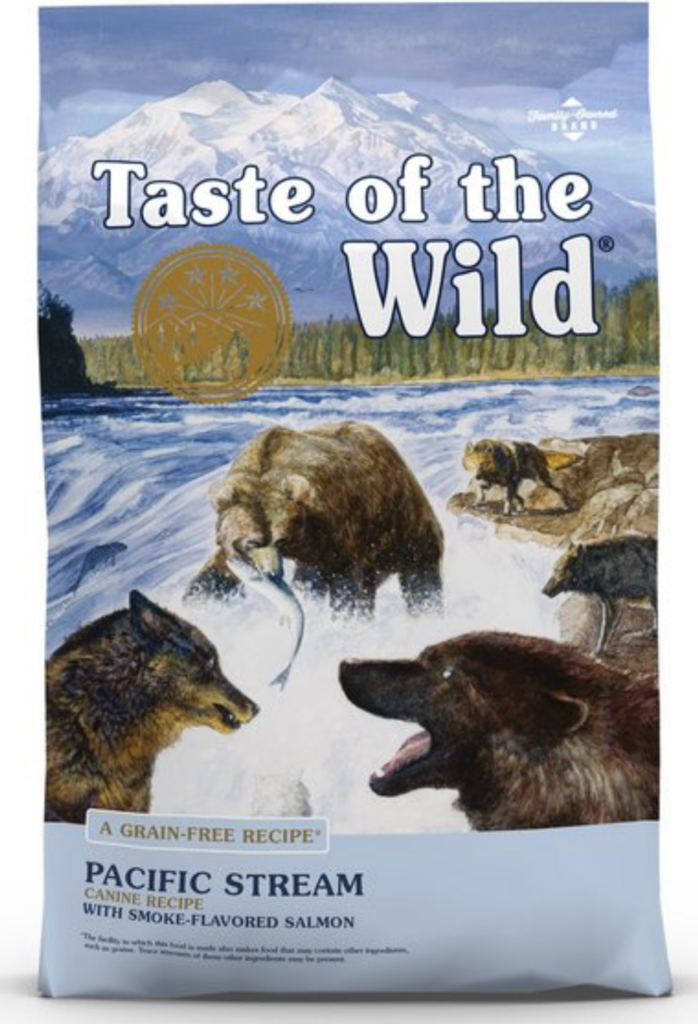 Taste of the Wild Pacific Stream is a fantastic food for poodles because it has a high protein content of 25%, which is important for joints, bones and lean muscle development.
The first ingredients are smoke-flavored salmon and fish meal. It's formulated with vitamins and minerals from real fruits and superfoods. It also delivers omega fatty acids to keep your poodle's coat and skin healthy.
Note that this is a grain-free recipe. This is not necessarily best for all dogs, but it could be helpful if your poodle suffers from a sensitive stomach or digestive problems.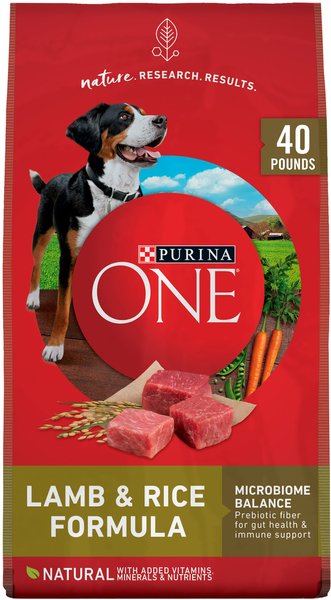 Poodles go crazy forPurina ONE Natural SmartBlend Lamb & Rice Formula Dry Dog Food! This formula has 26% crude protein, which supports both heart and muscular health.
The first ingredients are real lamb and other premium protein sources. To achieve a full protein profile, the lamb is combined with grains and other components.
Additionally, this Purina formula has natural supplies of glucosamine, which supports healthy joints, and Omega-6, which encourages a lustrous coat and healthy skin. Furthermore, because it is readily digested, more nourishment is utilized by your poodle.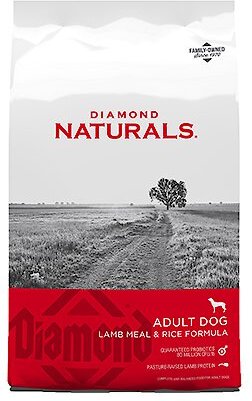 As a poodle parent, you should really consider Diamond Naturals Lamb Meal & Rice Formula for your pup's diet. It has real pasture-raised lamb as its first ingredient, which supports your poodle's bones, joints, and lean muscles.
This food's 23% crude protein content gives poodles the nutrition they need to keep active. Additionally, it includes vitamins and minerals from superfood fruits like blueberries and oranges, as well as Omega fatty acids that support the health of the skin and coat. It also contains antioxidants and prebiotics to assist healthy digestion, immune system function, and overall wellness.
Diamond Naturals is produced in the USA by a family-run business using premium ingredients from reliable domestic and international suppliers, so you can be confident in its quality. This formula contains no unhealthy fillers or artificial flavors.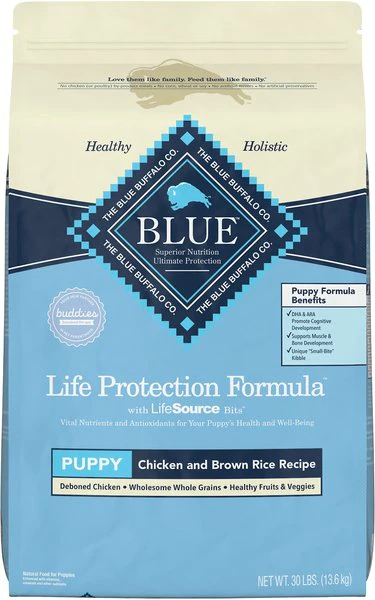 If your poodle is still young, consider the Blue Buffalo Life Protection Formula Puppy Chicken & Brown Rice Recipe Dry Dog Food. Its 27% crude protein level supports healthy muscle growth, which makes it a great choice for growing puppies!
Chicken and brown rice are the first ingredients, providing a balanced diet. It contains Calcium, phosphorus and essential vitamins for strong bones and teeth. The pieces of kibble are small, which is perfect for your pup's tiny jaws. It also has DHA and ARA, which support ocular and cognitive health.
This food contains no corn, wheat, soy or unhealthy by-products.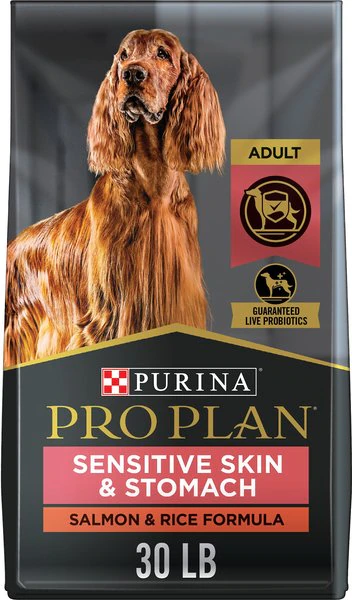 This Purina formula is great for poodles with sensitive skin and stomachs.
The first ingredients are salmon, barley, and rice, which provide a good source of essential protein (26%), vitamins, and minerals. It's also free of corn, wheat or soy, which is a good feature if your poodle is allergic to any of these ingredients.
This formula also contains omega-6 fatty acids to keep the skin and coat healthy, and has live probiotics and prebiotic fiber to help with digestion and support the immune system.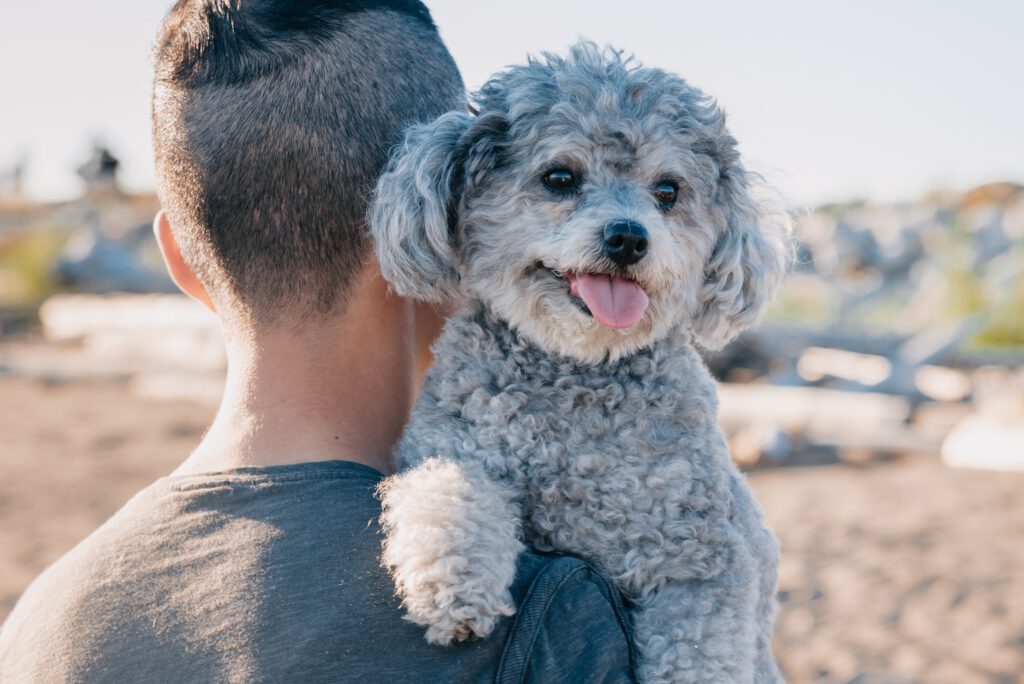 FAQ
Do Poodles need a special diet?
Poodles do not necessarily need a special diet, but they may have specific nutritional needs based on their age, activity level and any health concerns.
Poodles may need a diet that is high in protein and low in calories to maintain their lean body type. They may also require a diet that is rich in essential fatty acids, vitamins and minerals for maintaining a healthy coat and skin.
Grain-free options may also be a good option for poodles with sensitive stomachs.
What foods are Poodles most allergic to?
Poodles, like other dogs, can be allergic to a variety of foods.
Common allergens in dog food include beef, dairy, wheat, and chicken. Some poodles may also have allergies to ingredients such as corn, soy, or eggs.
It is also important to note that poodles may also have food sensitivities, which are different from food allergies. Sensitivities can cause symptoms such as gas, bloating, and diarrhea, and may not show up as obvious allergic reactions such as itching or skin irritation.
Consultation with a veterinarian is recommended to identify the allergen or sensitivity your poodle may have.
When should I switch my poodle puppy to adult food?
Poodles should typically be switched to adult food around the age of 1 year.
Puppy food is formulated to meet the specific nutritional needs of growing puppies, such as higher protein and calories. Likewise, adult food is formulated to meet the nutritional needs of adult dogs.
It is important to consult with a veterinarian before making any changes to your poodle's diet. Also, it is recommended to gradually switch over to the adult food over a period of 7 to 10 days by adding more adult food and less puppy food until the transition is complete.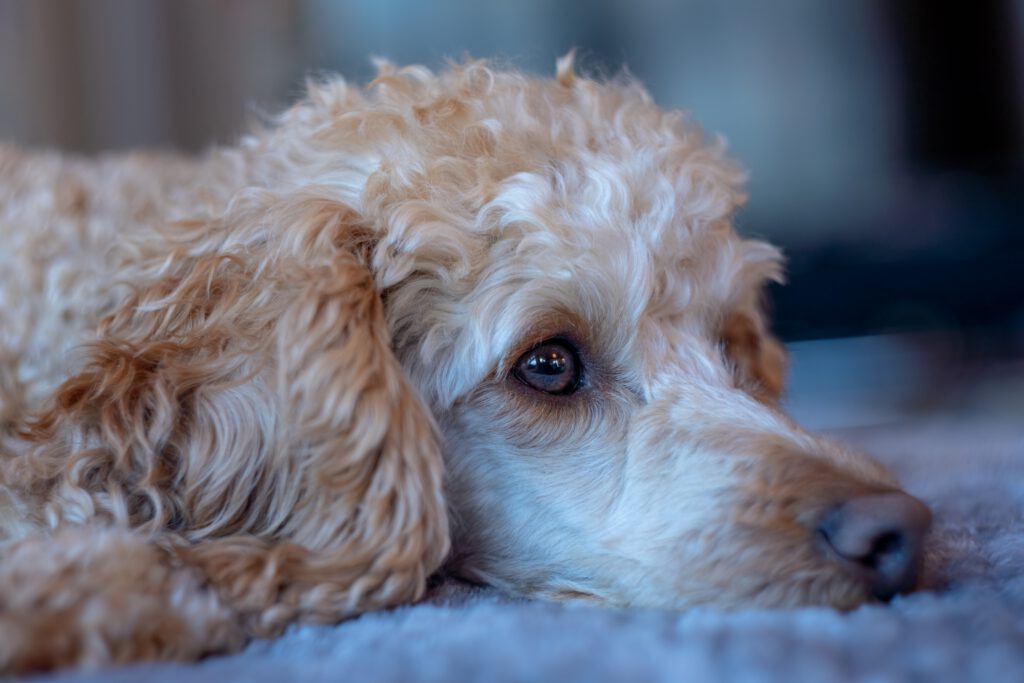 Conclusion
In conclusion, feeding your poodle the right food is essential for their overall health and well-being. Remember that every dog is different, so it is always best to consult with a veterinarian to ensure you choose the right food that suits your own precious poodle. Thanks for reading, and best of luck to you and your pup!