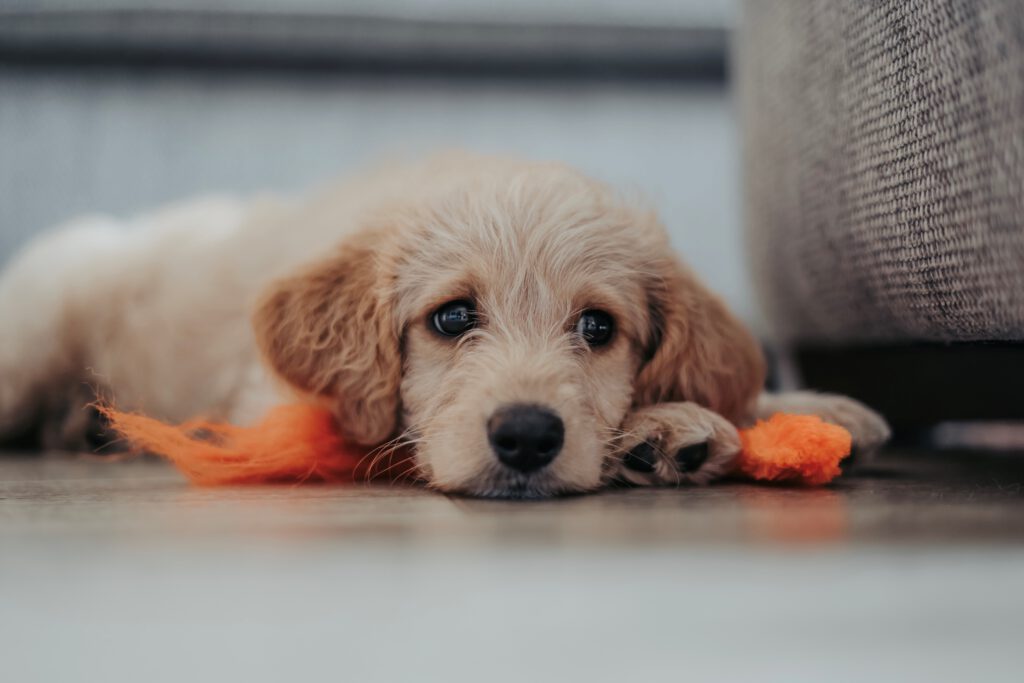 It's easy to find puppy food recommendations for pugs, beagles and other dog breeds. However, if your dog is a young labradoodle, it can be difficult to decide which kibble is best. Let's discuss which dog food formulas your labradoodle puppy should be eating.
What Should Your Labradoodle Puppy Eat?
The labradoodle is an adorable mix of the poodle and labrador breeds. Labradoodles have boundless energy for playing and chasing, especially when they are young.
As the proud parent of a labradoodle puppy, you should consider the unique needs of this mixed breed when choosing their food. In this section, we'll talk about the things you should look for in labradoodle puppy food.
Vitamins and Minerals
It's important that your young labradoodle receives enough vitamins and minerals to grow into a healthy adult. They will benefit from many of the same nutrients required by humans, including B-complex vitamins and vitamin K, E, D, and A. To strengthen their teeth and bones, they will also need phosphorous and calcium.
Protein
When your labradoodle is less than two years old, they are likely to wear you out with walks, training, and playtime. Your puppy will need plenty of protein in their food to develop muscle and provide energy. In this article, we will mostly recommend kibble with at least 24% crude protein.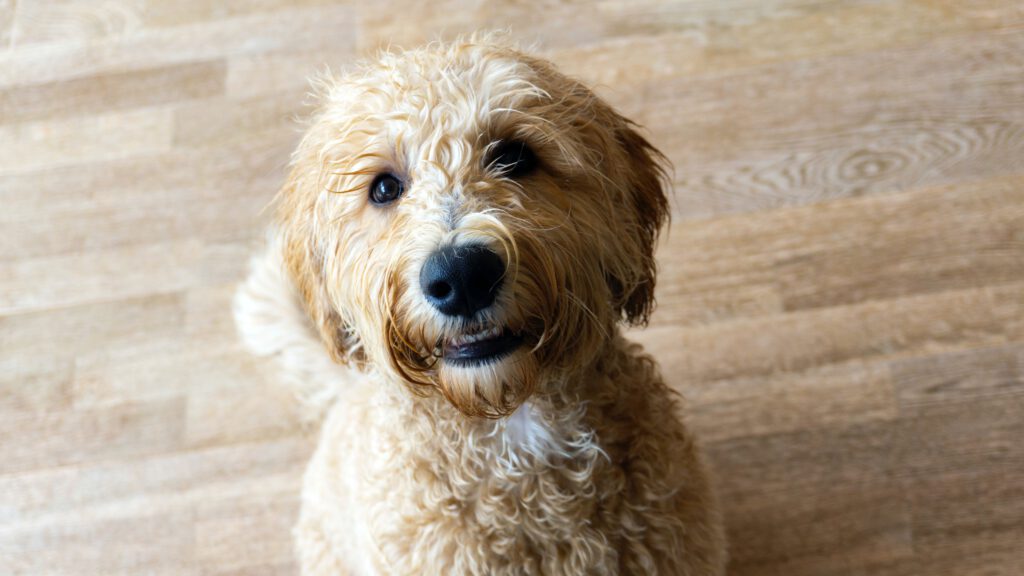 Probiotics
Labradoodle puppies sometimes suffer from digestive issues. You can help prevent this by choosing kibble that contains probiotics. Probiotics are microorganisms found in fermented foods such as yogurt. They will help maintain your dog's gut health.
The Best Labradoodle Puppy Foods: At a Glance
Best Food for Labradoodle Puppies: Top 7 Picks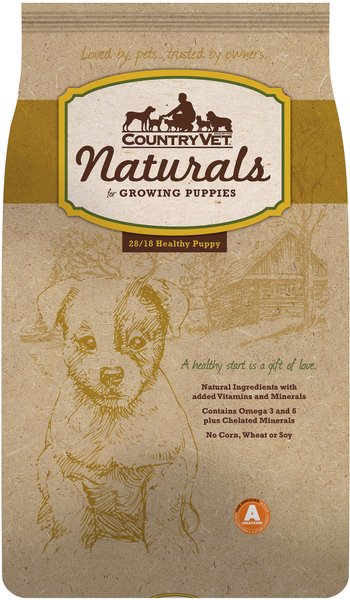 Country Vet knows that puppies have unique nutritional needs. This 28/18 food is their solution. It provides 28% crude protein and 18% animal fat, both of which are necessary for the health and growth of young dogs.
This formula starts with chicken meal as the first ingredient. It also contains fish meal and pork meal. Together, these animal products will provide plenty of energy for your labradoodle puppy.
There are no fillers such as corn in this food. It does contain brown rice, which may be a problem for some labradoodles with allergies, but we highly recommend this formula for most puppies.
Buyer review: "We are dog breeders and Country Vet is the ONLY food we feed our pups once weaned."

Read more at Chewy.com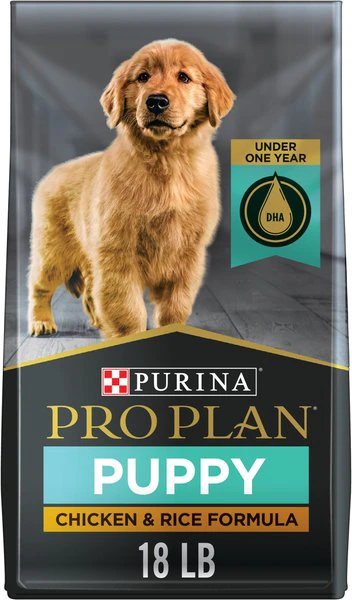 Purina has been providing quality pet food for many years now. Their chicken and rice formula is one of the best things you can put in your labradoodle's tummy without spending a lot of money.
Real chicken is the first ingredient, which makes us very happy. This food also contains a lesser amount of "poultry by-product meal". On their website, Purina claims that this ingredient is perfectly nutritious and they never use feathers or intestinal contents in their by-product meals.
Purina really prioritized the vitamins and minerals in this kibble. It contains carefully balanced levels of calcium and phosphorous, which will strengthen your labradoodle puppy's teeth and bones. This food also provides Vitamin A and Omega-6 fatty acids. These are essential for maintaining healthy skin and a shiny coat.
Buyer review: "I was recommended this food by a breeder that I got my puppy from. My puppy is getting great reviews from my vet and is growing fast."

Read more at Chewy.com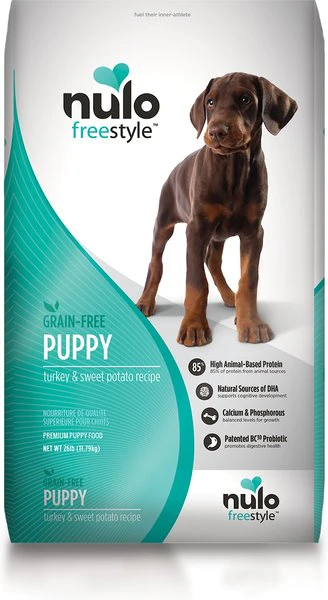 Maybe your puppy is allergic to chicken, or perhaps you'd like to add more variety to his diet. If that's the case, we suggest that you consider this Nulo Freestyle formula.
This is a turkey-heavy formula, with real deboned turkey and turkey meal as the first two ingredients. The third is salmon meal. Along with plant-based ingredients such as chickpeas, these meat products deliver a whopping 33% protein level.
This formula is jam-packed with other nutrient-dense foods such sweet potato, yellow peas, tomatoes, carrots and blueberries. These ingredients are very tasty and will help strengthen your young labradoodle's immune system.
Buyer review: "My rescue puppy was put on this and I cannot believe how shiny and healthy her coat is! I get compliments daily on how healthy she looks!"

Read more at Chewy.com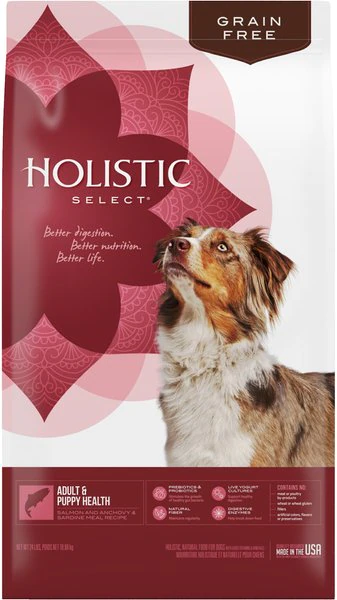 If your dog loves fishy foods, this Holistic Select formula is definitely worth a look. Real salmon is the first ingredient, but it also contains anchovy meal and sardine meal. These are fairly uncommon ingredients but many labradoodles go crazy for their smell and taste.
This food has plenty of antioxidants to keep your puppy's heart healthy. It also contains fiber and probiotics for maintaining gut and digestive health, as well as calcium, phosphorous and vitamins A and E.
There are no grains included in this formula, which is not a bad thing if your labradoodle is allergic to them. It has plenty of protein (29%), but the 14% crude fat level is a little lower than some other foods on this list.
Buyer review: "My dog has allergies to wheat, corn and potatoes. It has been a long road trying to find someone that works. So happy to have found Holistic Select!!"

Read more at Chewy.com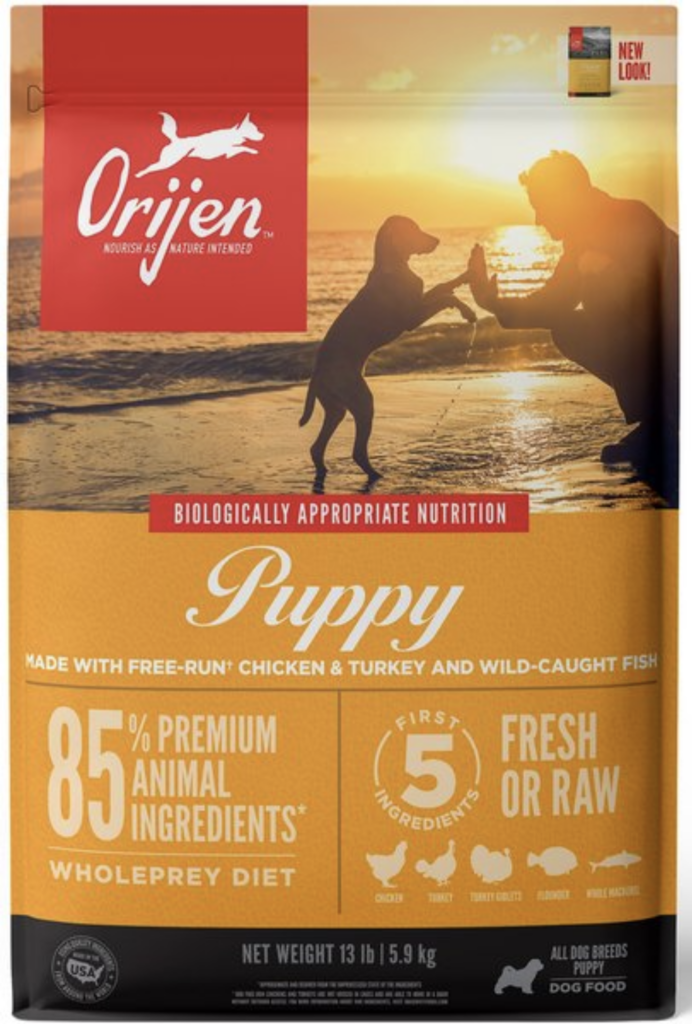 When it comes to quality, Orijen always delivers! This formula consists of 85% premium animal ingredients and delivers 38% crude protein, making it one of the best food on this list for a young labradoodle's lean muscle development.
The first ingredient is chicken, followed by turkey, giblets, and fish (flounder and mackerel). This food is partly derived from animal organs in addition to real meat, so it's great for puppy parents looking for a dry version of the "whole prey" diet. This formula also offers plenty of plant-based foods such as pumpkin, apples, pears and butternut squash.
The only downside for us is the price tag. Not every labradoodle parent can afford to buy this kibble for their pup's daily meals, but if the extra nutrients and tasty freeze-dried coating are worth the cost for you, we recommend that you consider this grain-free Orijen formula.
Buyer review: "It took my pups a few days to give it a try. When they finally did they inhaled it. They love it. Their coats look great and they are healthy."

Read more at Chewy.com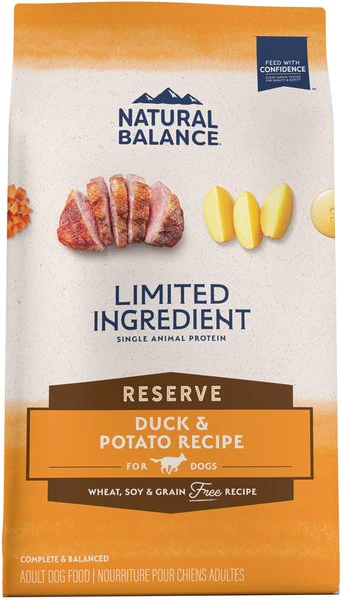 The beauty of this Natural Balance Duck and Potato formula is its simplicity. This food contains fewer ingredients than some others in this article, but it also lacks hidden fillers that may trigger allergies or digestive problems.
Real duck meat is the first ingredient, followed by duck meal, potatoes, and sweet potatoes. The duck provides delicious taste and plenty of protein (25%). And if your labradoodle struggles with digestion, the fiber-rich potato ingredients will likely be helpful.
This formula also contains a healthy amount of fish oil. This provides DHA, which helps support healthy brain development in a labradoodle puppy.
Buyer review: "This is a great food for puppies, especially if you're trying to eliminate food allergies. My vet recommended this and we are happy with it. Our Hazel loves it — so far so good!"

Read more at Chewy.com
FAQ
How much should my labradoodle puppy eat?
The amount of food that your labradoodle puppy eats will depend on their age, size and weight. Many labradoodles eat several times a day when they are less than 6 months old. As they get older, you can try feeding them twice a day. For portion sizes, you can follow the standard recommendations for small and medium breeds, which is between 2/3 and 1 1/4 cups of dry food each day. Check with your veterinarian if you have any specific questions about your dog's feeding routine.
Should labradoodles eat grain-free food?
There is a lot of debate about whether grain-free food is healthy. Your labradoodle will certainly benefit from the carbohydrates, fat, and antioxidants that grain provides. There are many types of grain, including corn, barley and wheat. However, some dogs have grain allergies, so if you need to switch to a grain-free diet, consult with your veterinarian to ensure that your labradoodle receives the proper nutrients elsewhere in his diet.
Why are labradoodles always hungry?
Sometimes your labradoodle will act as if he's always starving for food, especially when he is a puppy. This is completely normal and healthy. Dogs require protein, fat, vitamins, minerals, and other nutrients to survive. When your labradoodle comes begging for food, he is simply responding to those biological urges. Your job as a puppy parent is to provide enough healthy food to satisfy and nourish your dog without overfeeding him.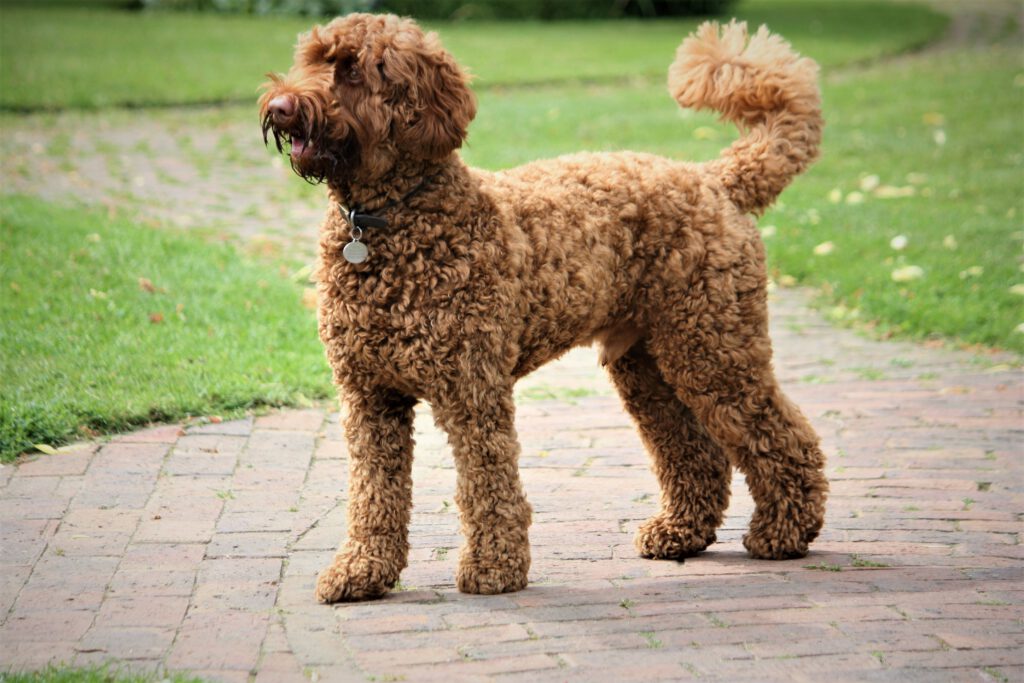 Conclusion
It's great to establish a consistent, healthy feeding routine early in your dog's life, so congratulations on taking this first step! You should now be in a great position to choose the perfect dog food for your labradoodle puppy. Time flies, and before you know it, you'll be switching your precious pup to an adult formula. When that time comes, be sure to discuss any diet changes with your veterinarian. We wish you the best of luck as you continue raising your well-fed, healthy labradoodle.