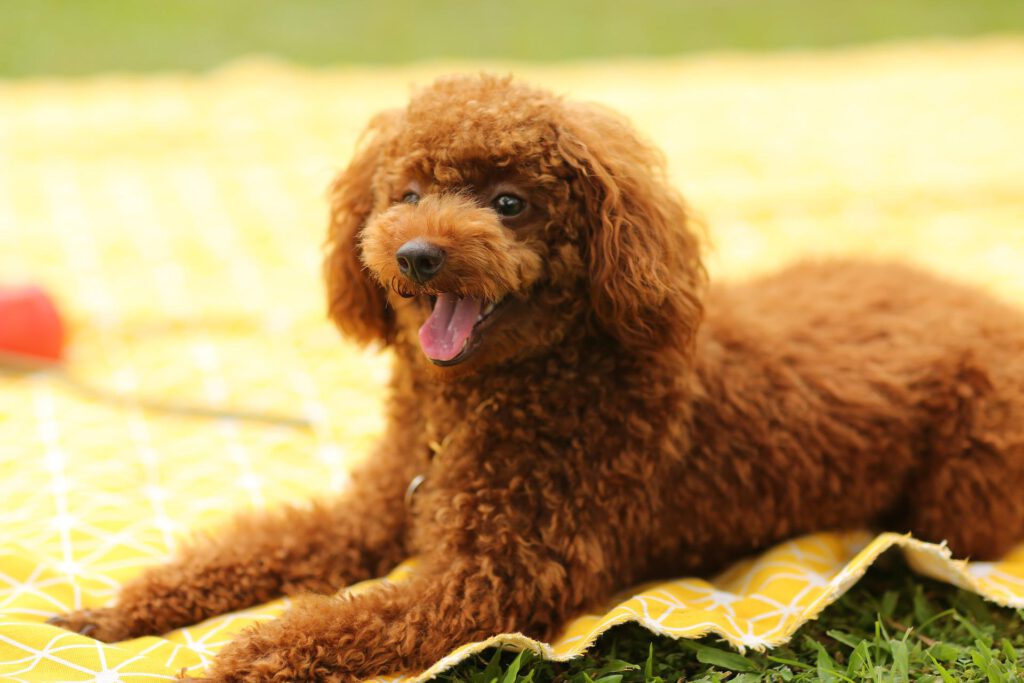 Dental chews are a great way to maintain your poodle's oral hygiene while rewarding good behavior. A dental chew is a specific type of dog treat that has a shape and texture designed to remove tartar and plaque from the teeth. Some chews contain minty ingredients, and when dogs chew them, their breath is freshened naturally. In this article, we'll discuss the things you should consider when choosing dental chews for your poodle.
Why Do Poodles Need Dental Chews?
So your poodle is already eating a few healthy meals each day and you've found a great dog-friendly toothpaste that he enjoys. Do you really need to buy dental chews?
We think dental treats are a great way to supplement your dog's oral hygiene. Let's look at a few reasons that your poodle could benefit from dental chews.
Oral Health
Your dentist is always reminding you to brush and floss, and your veterinarian should do the same for your poodle! All dogs, including poodle, can develop periodontal disease at a young age if their dental hygiene is not maintained.
Dental chews are not a substitute for regular oral cleanings and exams, but they help prevent the buildup of plaque and tartar. Your pup's breath will also be naturally freshened when he chews on the treat, and many dental chews have minty ingredients as well.
Nutrients
Dental chews are not intended to replace your dog's regular meals, but they can still be a great source of nutrients. Most of the dental treats on this list contain a healthy amount of protein, fat and fiber. Some are even supplemented with vitamins and minerals. Keep in mind that higher quality treats may cost a bit more, but they also contain more natural ingredients and fewer fillers.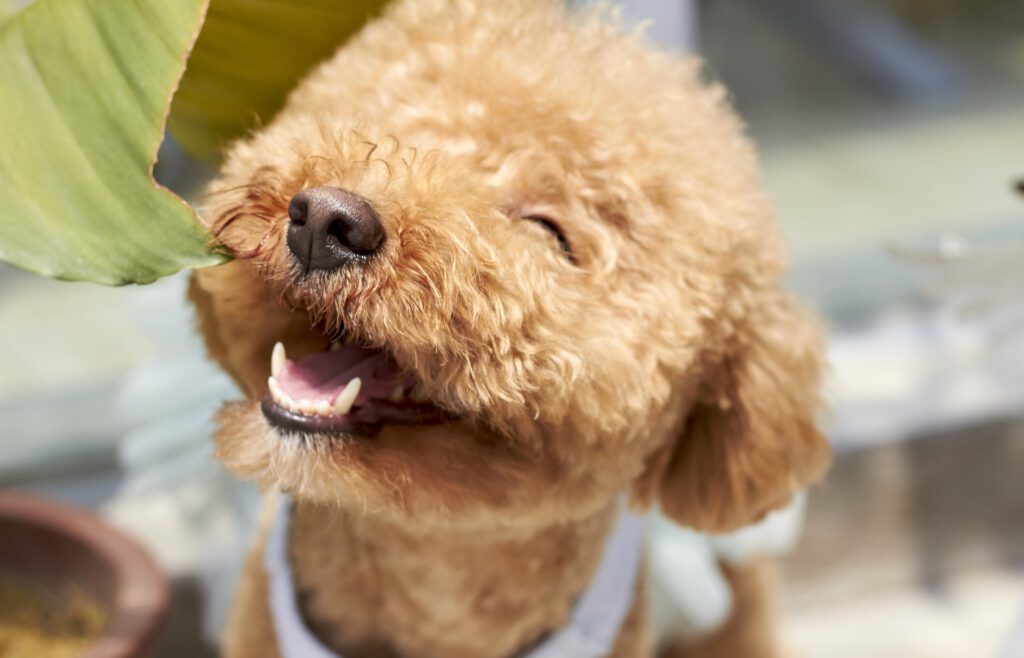 Training
Many dog owners train their pups by giving them treats to reinforce correct behavior. Dental chews make great training treats, and they have the added benefit of cleaning your dog's teeth. Pay attention to the feeding instructions provided by the manufacturer. In many cases, you should only give your poodle one chew per day, but you can also cut a single chew into smaller pieces if you need multiple treats for training.
Best Dental Chews for Poodles: Top 8 Picks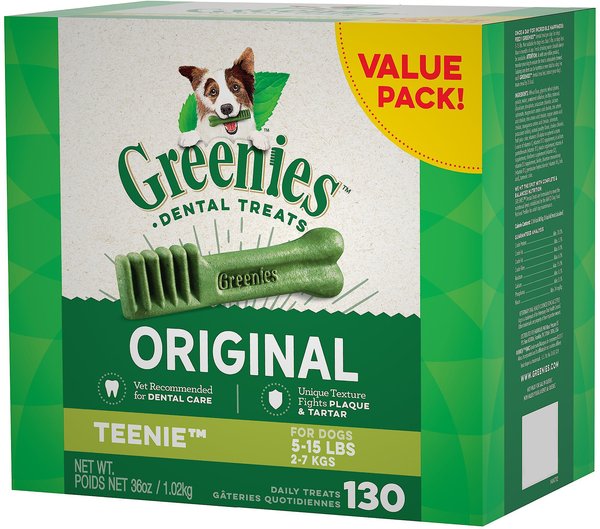 If you're like most poodle owners, you always keep a bag of treats nearby to reward your pup for good behavior. Greenies Large Dental Dog Treats will help reinforce your pup's training while maintaining his oral hygiene.
These chewy little green snacks will freshen your dog's breath while removing tartar and plaque. The feeding instructions recommend that your dog eat one treat per day. They also contain vitamins and nutrients to keep your dog healthy and nourished.
Buyer review: "Although the vet would like brushing also every day, she said the greenie every night is working well for our dog."

Read more at Chewy.com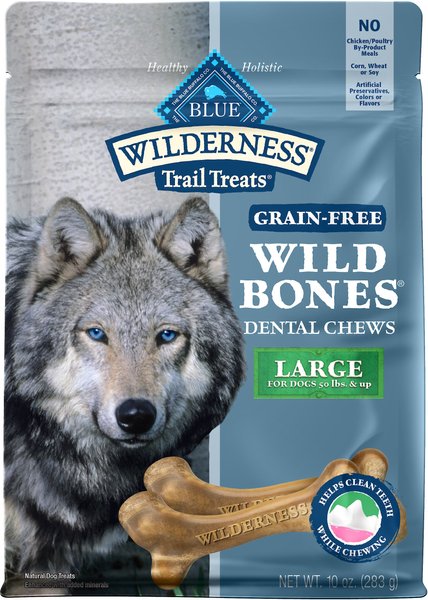 Poodles love to chew on things such as furniture and clothing. Why not keep their teeth busy with these tasty grain-free Buffalo Wilderness dental chews? After all, dogs can clean their teeth naturally by chewing. We also love the natural ingredients in this product, including tapioca starch, pea protein, and potatoes.
Buyer review: "My dog loves this dental treat. As soon as finished teeth cleaning, my dog can't wait to get this yummy treat as bonus. I definitely recommend this."

Read more at Chewy.com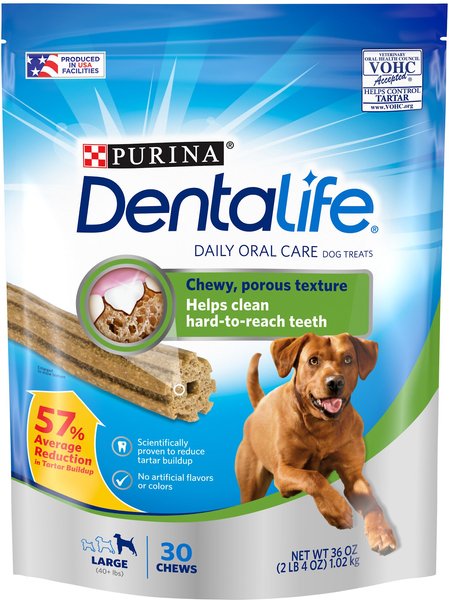 Your dog may not be fond of having his teeth brushed, but he is sure to love the chicken flavor of these DentaLife dental chews. These chewy snacks are designed to prevent the buildup of tartar on your pup's teeth.
Other treats are hard and crunchy, but these DentaLife dental treats are chewy and filled with air pockets. They even have ridges that help clean your poodle's teeth from top to bottom, all the way to the gums.
Buyer review: "My dog loves these treats daily. She goes wild until she gets one. Thank you."

Read more at Chewy.com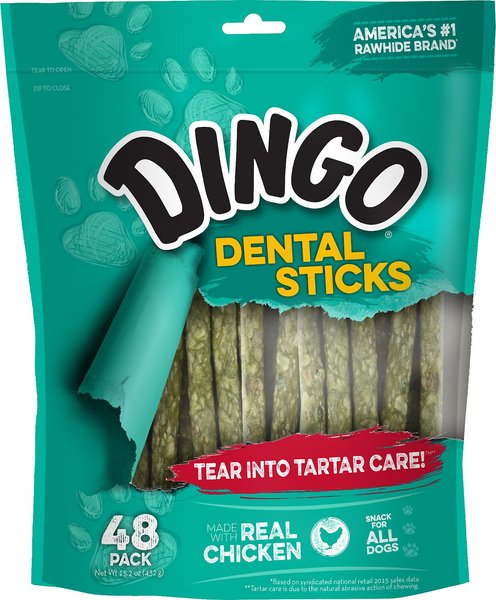 If your poodle is elderly or just plain picky, he may prefer treats with a softer texture. If so, Dingo Dental Sticks may be perfect for your pup. These dental snacks are made from chicken jerky and rawhide, providing a soft, chewy mouthfeel.
Dingo Dental Sticks are made for adult dogs of all sizes. We love to see that they contain 50% protein. This makes them perfect for supplementing your pup's energy and promoting lean muscle development.
Buyer review: "My dog just went to the vet and she said Sadie had the cleanest teeth she ever saw. Love these dental sticks and so does Sadie."

Read more at Chewy.com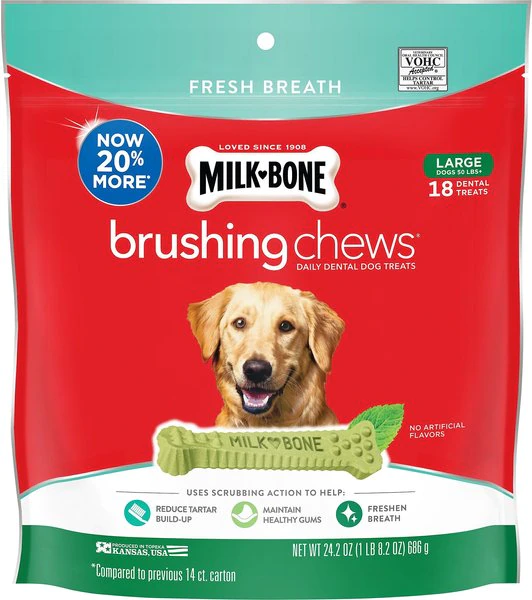 Milk-Bone has hit a home run with these Fresh Breath Brushing Chews. Your human toothbrush has bristles that help remove plaque and tartar, and the bumps and ridges on these dental chews will do the same for your poodle.
These chews also contain a healthy dose of calcium, which is one of the best nutrients for strengthening your poodle's bones and the enamel on his teeth. And forget about fillers or fake ingredients. These chews are made with real spearmint that will freshen your pup's breath better than most products you may have tried before.
Buyer review: "This product is wonderful and it keeps my Dottie's teeth nice and clean."

Read more at Chewy.com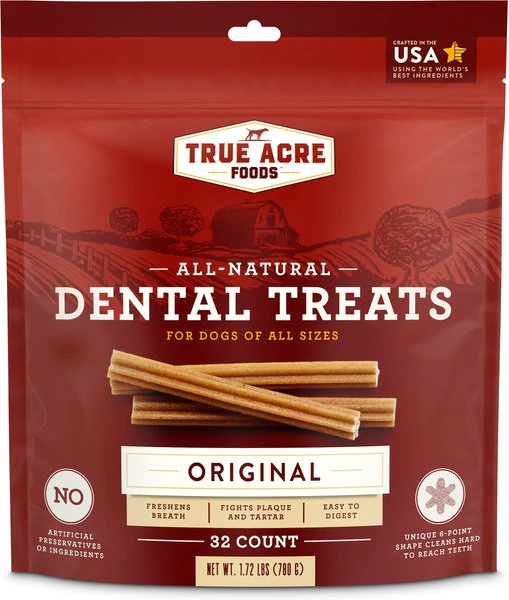 Poodles may not love having their teeth brushed, but they sure do love to chew. With these chicken-flavored True Acres Dental Sticks, you can satisfy both their dental hygiene needs and their chewing habit.
Each stick is shaped like a six-point star to scrub tartar and plaque on both the front and back teeth. We're happy to see that they contain no harmful or artificial ingredients, and their protein, fat, and fiber are great for your poodle's overall health.
Buyer review: "My two girls love these. They sit at the treat box and just wait until I give them one. SO I think this is a win!"

Read more at Chewy.com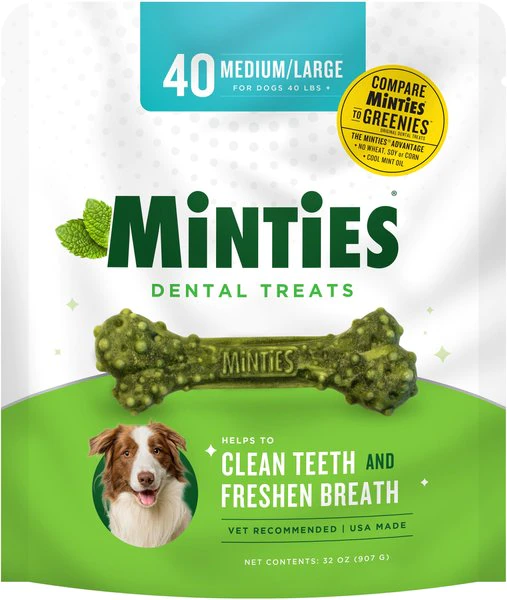 All dental chews on this list are great for both freshening breath and cleaning teeth, but these VetIQ Minties have a unique set of natural minty ingredients: peppermint, fennel, dill, and parsley. They also contain natural chicken flavor, so we are confident that your poodle will be happy to chew on them.
If your poodle has digestive issues, Minties are a great dental chew option. They contain no wheat, corn, or gluten, so your dog's tummy shouldn't suffer when he eats them. Just keep in mind that one chew per day is recommended for adult dogs.
Buyer review: "Wow, my puppy loves these! She can't wait until I pull one out from the bag and she ends up with such fresh breath after. Happy customer!"

Read more at Chewy.com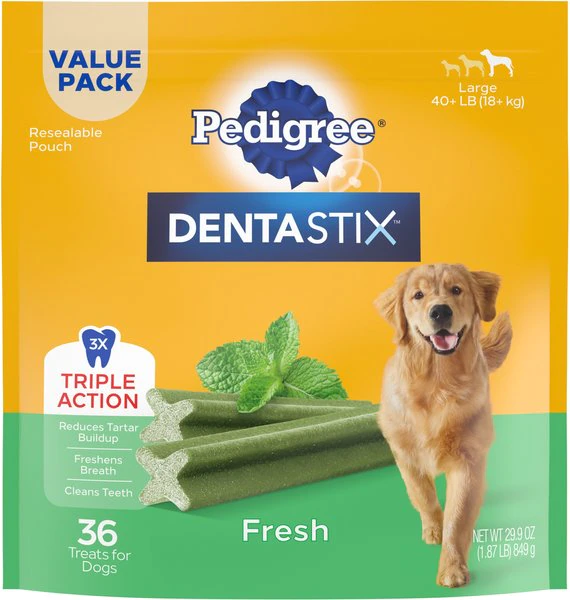 Pedigree Dentastix contain natural poultry and mint flavors, and when your dog chews them, they will freshen his breath and remove tartar and plaque buildup. They have an X shape that will help scrub those hard-to-reach tooth surfaces near the gum line.
One Dentastix treat per day is recommended, and if have concerns about the size of these treats, you can always break them up. Either way, your poodle's dental hygiene and overall health will benefit from the nutrients, ridges and texture of these Pedigree dental chews.
Buyer review: "These have a minty smell and my dogs love them. Even my picky baby loves them"

Read more at Chewy.com
FAQ
How do I keep my poodle's teeth clean?
You can prevent plaque and tartar buildup by brushing your dog's teeth with dog-friendly toothpaste, which is available in flavors that dogs love such as peanut butter and chicken. You may also reward your poodle's good behavior with the dental treats we have discussed in this blog post. Finally, don't forget to take your poodle to the vet for regular oral exams and cleanings.
What are the healthiest dental chews for dogs?
There are many great dental chews for dogs, but one of the healthiest we have seen is VetIQ Minties. They contain natural ingredients such as rice flour, peppermint and alfalfa. Minties also have a healthy amount of protein, fat and fiber. They are made in the USA and contain no animal byproducts or fillers.
Do raw bones clean dogs' teeth?
You can help keep your dogs clean by giving them raw meaty bones to chew on. These bones contain a rough texture that's great for scrubbing plaque and tartar. Avoid cooked bones since they may splinter and injure your dogs mouth or digestive system. Also keep in mind that raw meat may contain harmful bacteria, so be careful when handling these bones.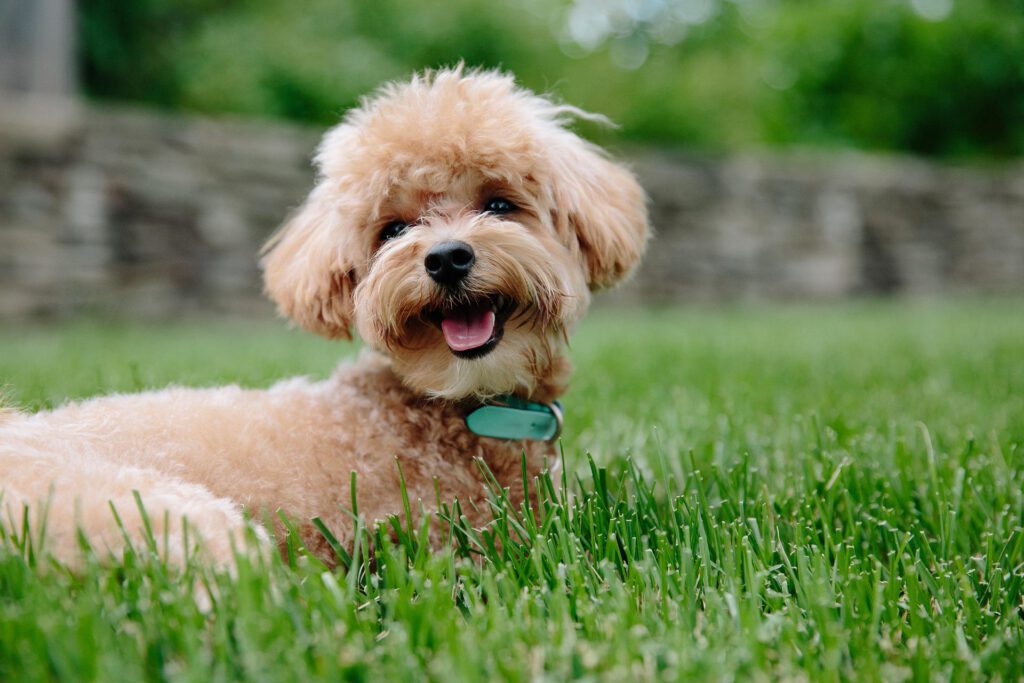 Conclusion
The best way to keep your poodle's teeth clean is by brushing and making regular visits to your veterinarian. However, as we've seen in this article, dental chews can also help prevent plaque and tartar buildup while freshening your dog's breath. We recommend using dental chews sparingly as a minty treat that rewards your poodle's good behavior and maintains his dental hygiene.