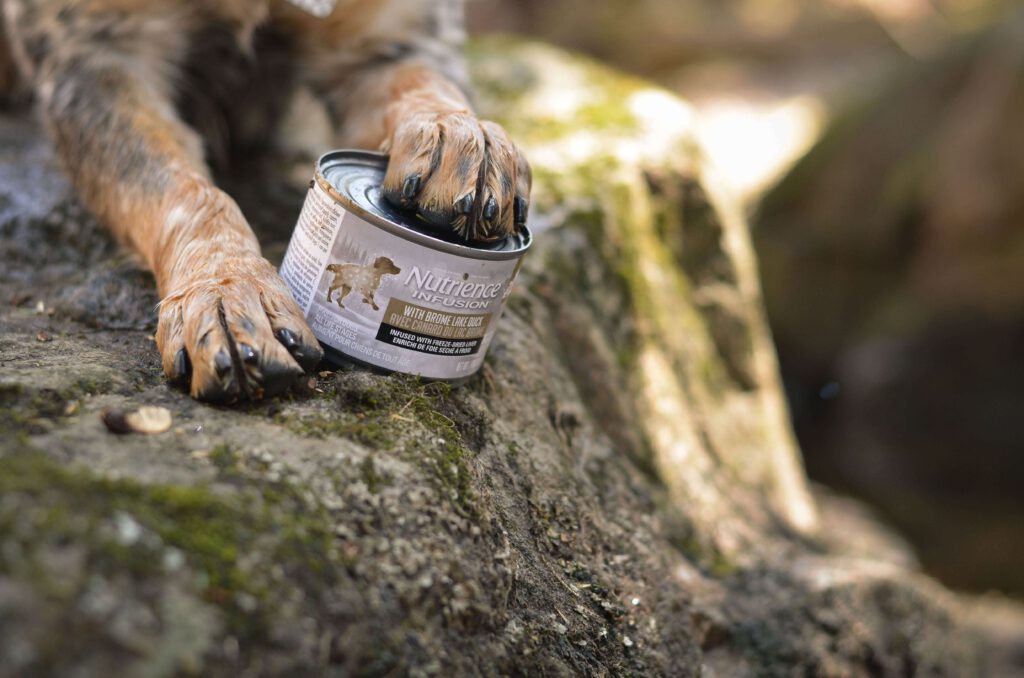 When you buy food for your dog, you have two main options to choose from: dry food and wet food.
You'll notice that some wet foods are advertisted as "pâté" or "pâté-style". This may conjure images of crackers and hors d'oeuvres, but believe it or not, this kind of pâté is made exclusively for dogs!
Why should you choose this specific type of wet food? And will your dog actually enjoy eating it? In this article, we'll help you understand what pâté dog food is and when you should consider feeding it to your pup.
What is pâté-style dog food?
The word "pâté" describes the texture of the food. Pâté dog food is soft and spreadable like its human counterpart.
There is no restriction on the specific ingredients used in this style. It often contains the same protein you find in other types of dog food.
For example, Cesar Classic Loaf is a pâté-style food that contains beef, chicken liver, and beef lung, while Chicken Soup for the Soul Adult Pâté delivers protein through chicken, turkey, duck, salmon, and chicken liver.
Other ingredients are added to achieve the pâté texture and enhance taste. These may include chicken broth, turkey broth, xanthan gum, and carrageenan for thickening.
Is pâté dog food good for dogs?
Pâté food is a convenient and healthy option for many dogs. Its soft texture is beneficial for dogs with dental issues. It's also lower in carbohydrates and has a higher water content.
Since wet dog food generally has far fewer carbohydrates than kibble, it's better for your pup's immune system and digestion while maintaining a healthy weight.
Pâté-style wet food is also great for dogs with urinary tract problems and kidney issues because its high water content keeps them hydrated.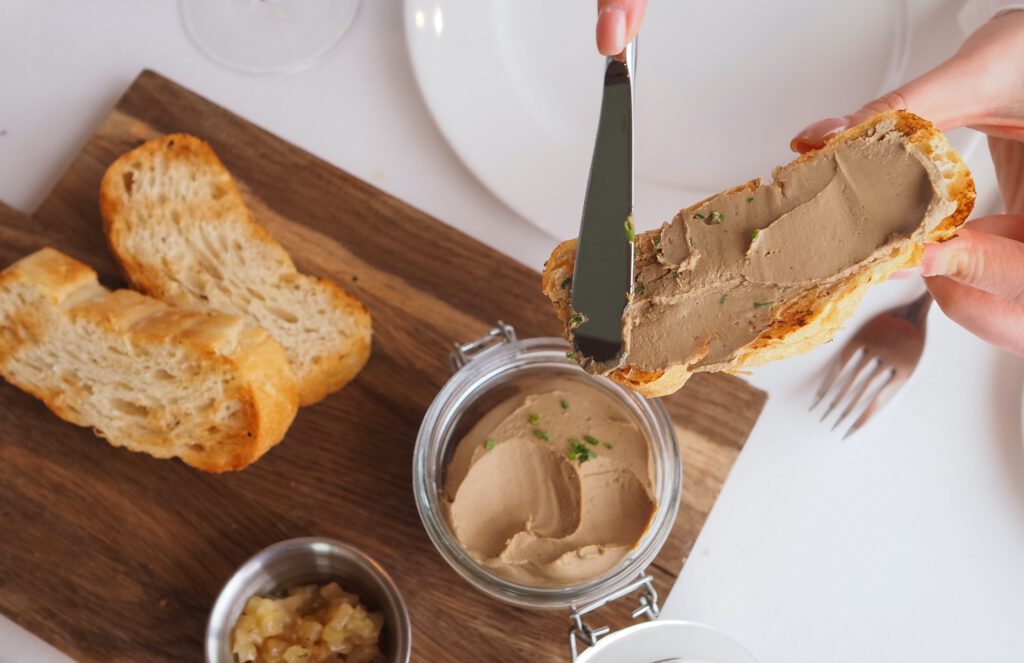 What is pâté puppy food?
The soft consistency of pâté-style dog food is great for puppies. It can deliver the protein they need for growth and energy, while its juicy, tender texture provides an accessible and enjoyable meal for young dogs.
What is the difference between pâté and loaf in dog food?
"Pâté" refers to the food's texture. "Loaf" is a description of what the food looks like. Loaf dog food takes the shape of its container, such as a can or plastic tray.
This can be confusing because the words "pâté" and "loaf" are often used together to describe the same product.
How to make pâté dog food
Pâté food is easy and quick to make at home. Your dog will love the fresh ingredients and you'll enjoy the satisfaction of filling your pup's belly with tasty food.
Here is a pâté recipe that only requires four ingredients: chicken liver, carrots, egg, and oats. After grinding and mixing according to the recipe instructions in the video, you can fill molds with the batter and then bake it.
Remember to check the temperature after baking to ensure that your dog doesn't burn his mouth on these delicious treats.
Is duck pâté good for dogs?
Duck is a great protein in pâté dog food if your pup is allergic to beef or chicken, or if you're just looking for some variety.
Duck is a lean, iron-rich meat that provides omega-3 fatty acids and antioxidants. And pâté food is soft, which makes it simple to serve and easy to eat.
Don't forget to check the ingredients list to ensure that the duck-based food does not contain harmful additives or fillers.
Is pâté dog food good for a sensitive stomach?
For dogs with sensitive tummies, pâté offers the same benefits as other types of wet food. It has less carbohydrates than kibble. Aside from weight control and immune system benefits, a lower-carb diet means better digestion for your pup. It also contains much more water than dry food, which helps keep your pup's system flowing smoothly.
What do you do with dog pâté?
Variety is one of the benefits of pâté. You can empty the container straight into your dog's bowl and your pup may happily eat it. You might also choose to slice it with a knife, or mix and mash it with a fork. Another common serving method is to add it as a "topper" on dry food to enhance the taste.
How long can I keep dog pâté in the fridge?
After opening a container of pâté-style dog food, you can store it in the fridge at 40 to 45 degrees (F) for up to 5-7 days. The exact temperature and length of time depends on the brand, so check the label on the food for details.
An unopened container of pâté food can usually be safely stored at room temperature in your pantry. Always check the expiration date before serving.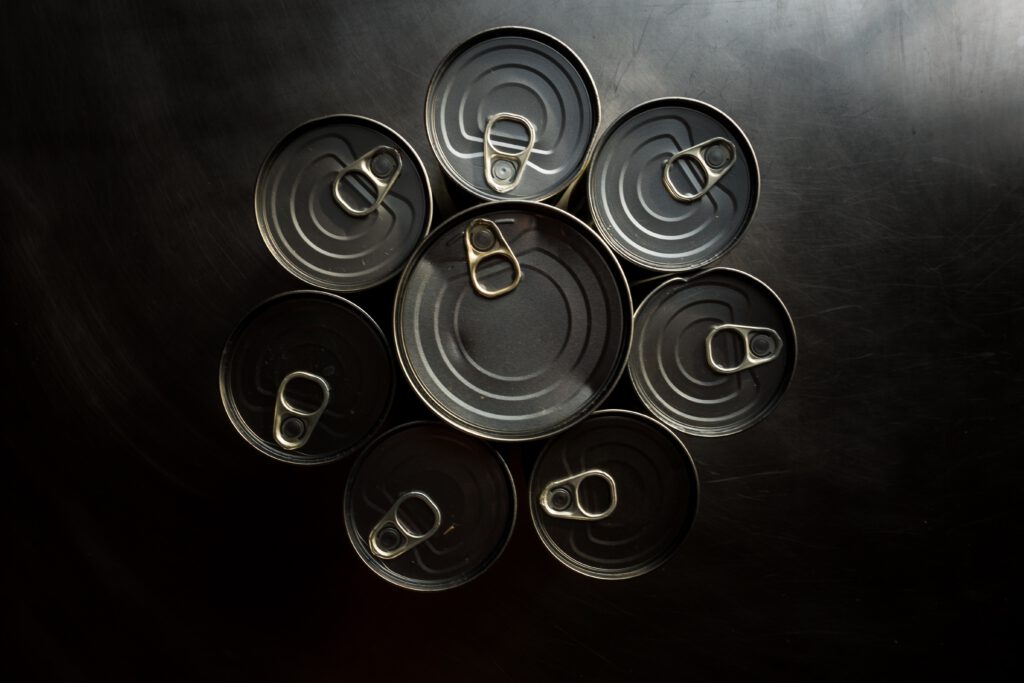 Conclusion
There are several types of wet food you can give to your dog. Pâté is one of our favorite styles! Dogs find its creamy texture easy to chew, and many pâté-style foods offer plenty of protein, vitamins, and minerals. It's also very convenient for pet owners. Just open and serve, or mix and slice as you desire.