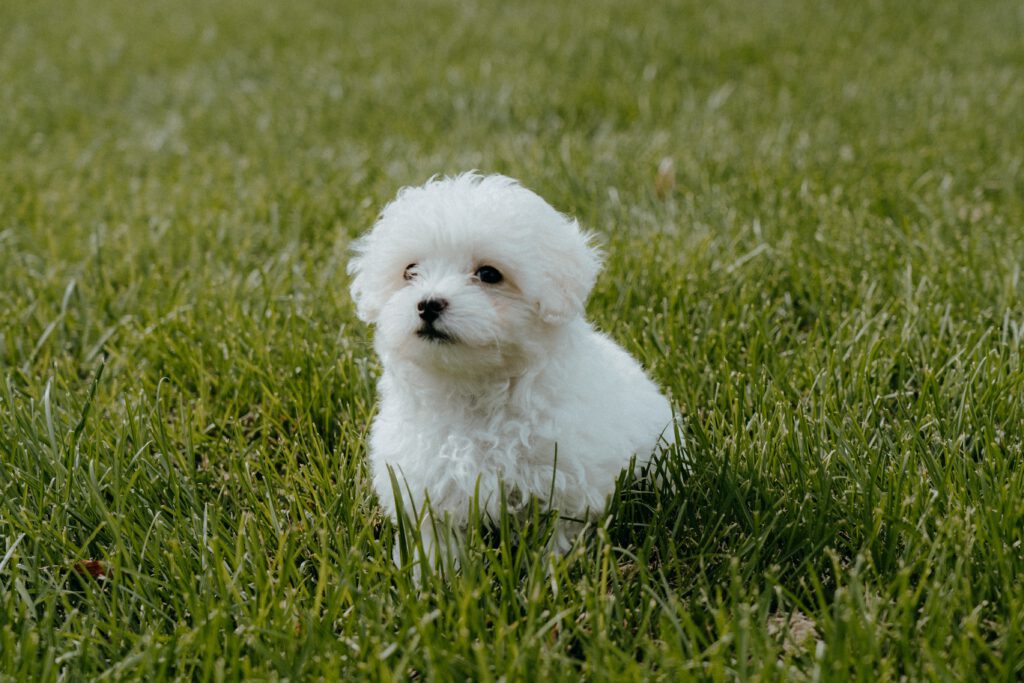 The Maltipoo is a noble and adorable crossbreed dog, descended from the Maltese and poodle breeds. If you have a young Maltipoo puppy, you may be wondering which dog food is best. How do we ensure that our baby Maltipoos enjoy their food while growing strong and healthy? In this article, we'll help you select the best dog food food for your Maltipoo puppy.
What is the Best Food for a Maltipoo Puppy?
With the huge number of available dog food types and flavors, it can be a difficult task to decide which food to feed your Maltipoo puppy. But remember, your Maltipoo does not need constant variety. You may find it easiest to stick with one brand of food and see if your dog adjusts to it. Consider switching foods if your Maltipoo develops health issues or consistently refuses to eat.
How to Select the Best Food for a Maltipoo Puppy
It's important for your Maltipoo to love the taste of his food. However, you should also consider the food's nutritional value, especially if your dog is still a puppy. All of the foods on our list have a healthy balance of taste and nutrition that your dog will love.
Protein
Underneath that adorable fluffy coat, your Maltipoo is a little hunter with a taste for chicken, beef, fish, and any other meat. This is a good thing; meat delivers protein, which supports the development of your dog's lean muscles, bones, and joints.
Look for foods with real meat listed as the first ingredients. Most manufacturers list the specific protein content as well.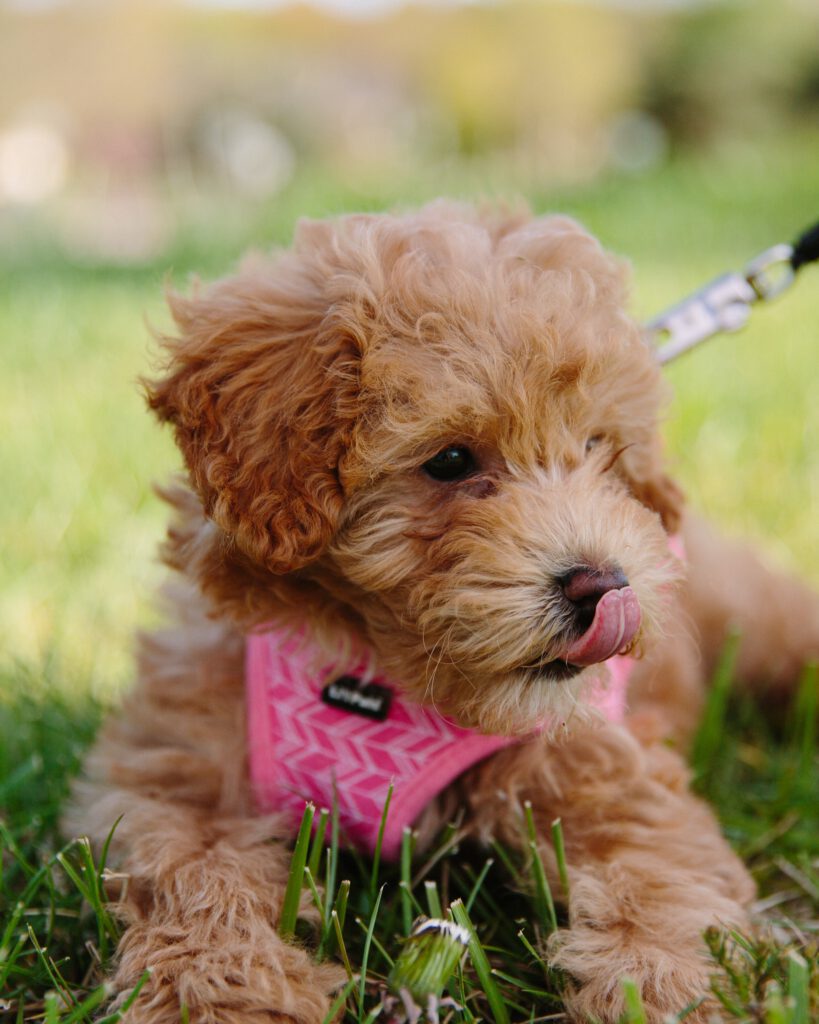 Vitamins and Minerals
Vitamins and minerals are an essential component of dog food for any breed. This is especially true for the Maltipoo.
Maltipoos need vitamin A for skin and eye health, vitamins D and K for strong bones and teeth, vitamin C to boost their immune system, and more. Required minerals include zinc for the immune system, magnesium for muscle and bone development, and iron to oxygenate red blood cells and provide energy.
Probiotics
Some Maltipoos will develop digestive issues. If you choose a food with probiotics, you will help ensure your Maltipoo's gut health. Probiotics can also boost your dog's immune system.
Best Maltipoo Puppy Food: At a Glance
The Best Dog Food for Maltipoo Puppies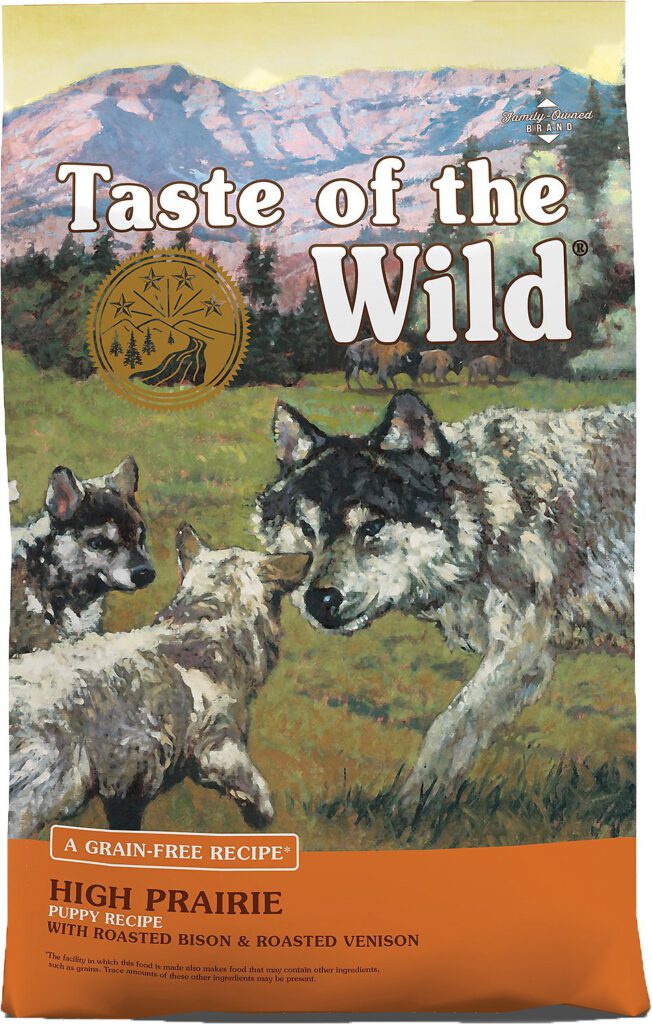 Your Maltipoo may be a tiny ball of fluff, but he's still a carnivore, a little hunter who craves the taste of meat.
REAL meat is the first ingredient in this delicious Taste of the Wild puppy food. It's made primarily from roasted bison and venison, and will support your Maltipoo's lean muscles, joints and bones with its whopping 28% protein.
No grain, wheat, or anything artificial here. Just vitamins, minerals, probiotics for gut health, and omega fatty acids to maintain your Maltipoo's healthy skin and shiny coat.
Buyer review: "My pups liked Taste of the Wild from the very first feeding. I feel confident that this is a fully nutritious kibble."

Read more at Chewy.com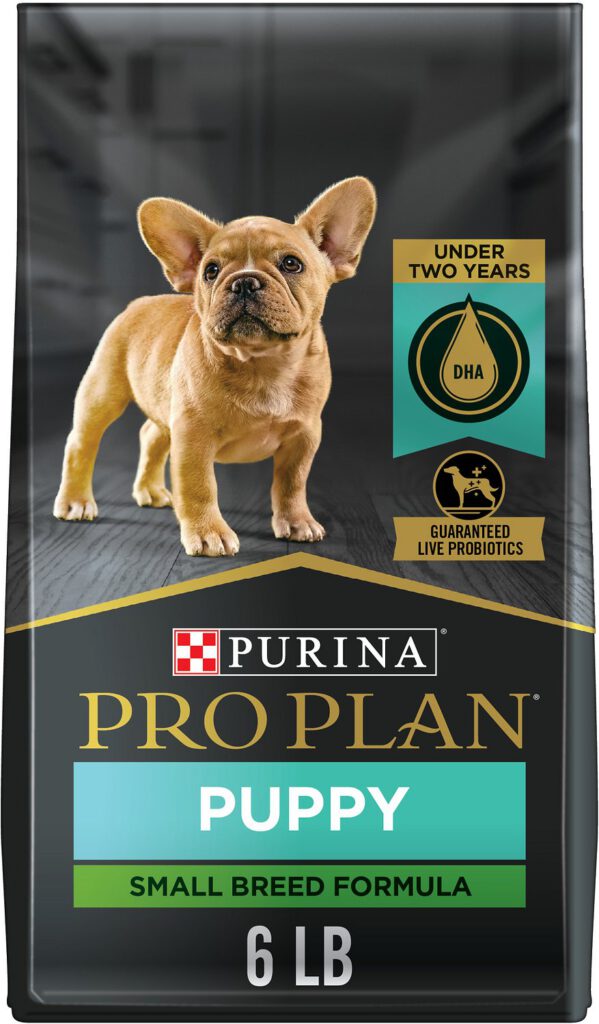 The Maltipoo has earned its reputation as a sweet-natured indoor lap dog, so you may be surprised by your Maltipoo's boundless energy. Energy requires protein, and the Purina Pro Plan Puppy Small Breed Chicken & Rice Formula is packed with it.
The first ingredient is this food is real chicken, but it also contains probiotics to keep your binchon's tummy healthy and happy. Its DHA (derived from fish oil) will help maintains vision and brain health.
This formula was specially crafted for toy and small breed dogs. This means that the kibble pieces are small enough for your tiny Maltipoo puppy to chew.
Buyer review: "My smallest dog can be pretty picky and she loves this food"

Read more at Chewy.com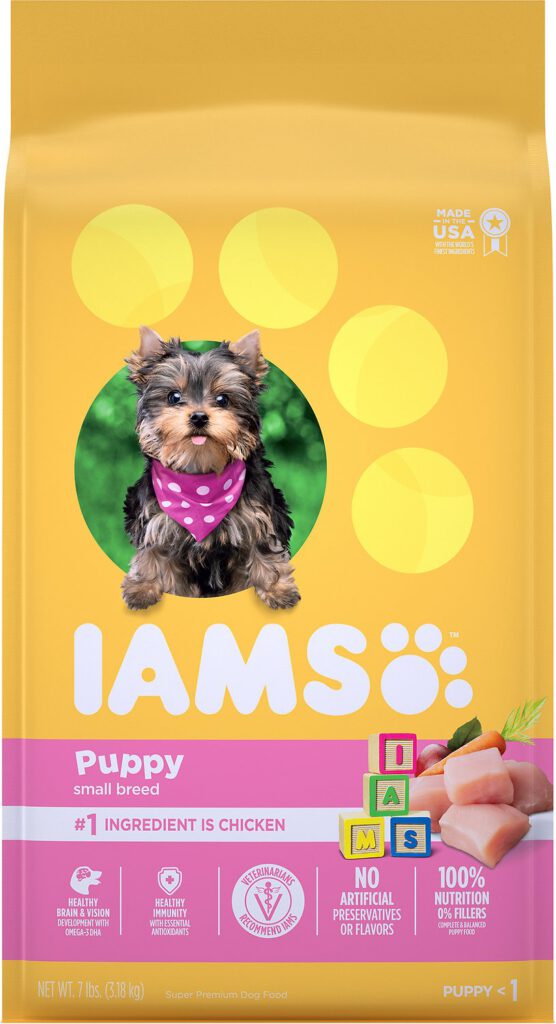 Your Maltipoo pup will LOVE Iams ProActive Health Smart Puppy. Read the reviews to see how quickly the small pups gobble it up.
With farm-raised chicken as the first ingredient, it not just tasty; it also delivers the essential protein your energetic Maltipoo puppy needs. And it's good for them too, containing 22 vital nutrients that are normally delivered by the mother's milk.
This is also a great value. Iams consistently delivers healthy, tasty food for a fairly low price. Your Maltipoo will love it!
Buyer review: "Perfect size kibble for small breed dogs. Affordable and seems easy to digest."

Read more at Chewy.com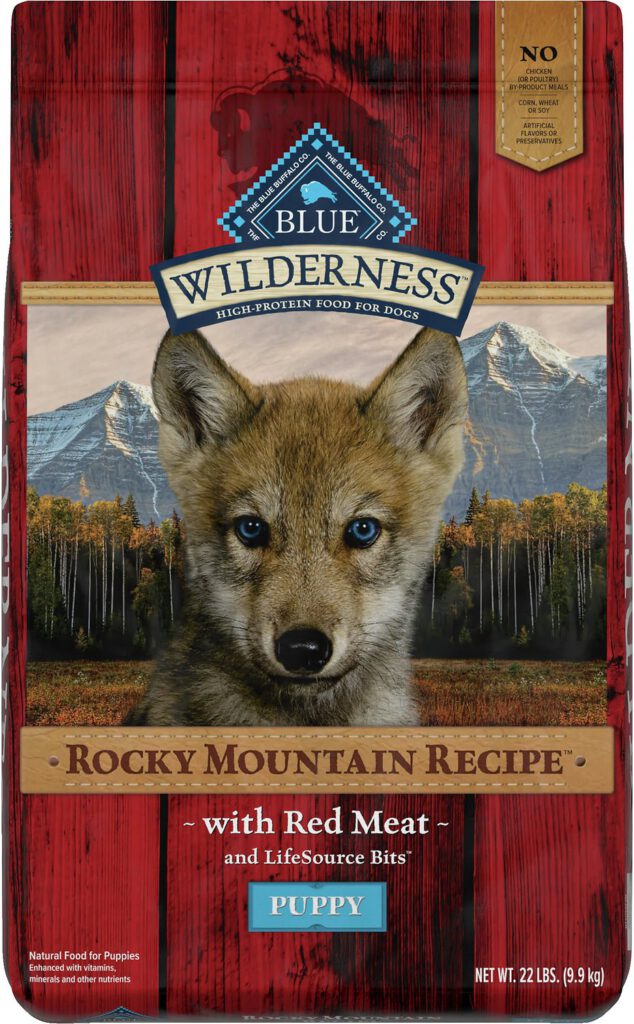 Beef is the first ingredient in the Blue Buffalo Wilderness Rocky Mountain Recipe. Your Maltipoo will absolutely lick his dish clean and his lean muscles will benefit from the high protein.
Blue Buffalo has also packed this puppy food with LifeSource Bits, an essential blends of vitamins, minerals, and antioxidants. It also contains the fatty acids ARA and DHA to support your Maltipoo's brain health.
No chicken by-products or artificial stuff in this dog food. Just grain-free, beefy goodness for your Maltipoo puppy.
Buyer review: "My two dogs are pretty picky eaters, but they will eat Blue Buffalo Wilderness Rocky Mountain Recipe with Red Meat. So glad I found something they will both eat."

Read more at Chewy.com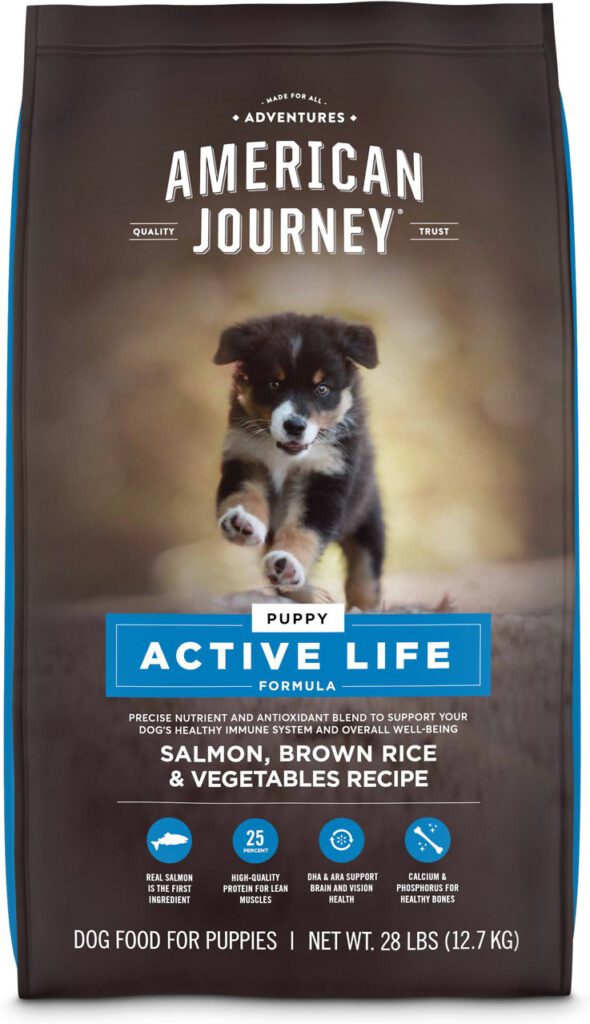 Many Maltipoos love fishy foods, maybe because their breed has descended from water dogs! Whatever the reason, your Maltipoo puppy is sure to love this salmon-based American Journey Active Live Formula food.
The first ingredient here is real salmon. Some Maltipoos develop bone problems as they grow and age, so American Journey was sure to also include a carefully balanced mix of phosphorous and calcium.
It also contains kelp, cranberries, sweet potatoes and blueberries to provide the nutrients your Maltipoo needs. Your fluffy pup will gobble this food up.
Buyer review: "Augie really enjoys her new food. She loves anything with a fishy taste or smell. This is right up her alley and she digs in."

Read more at Chewy.com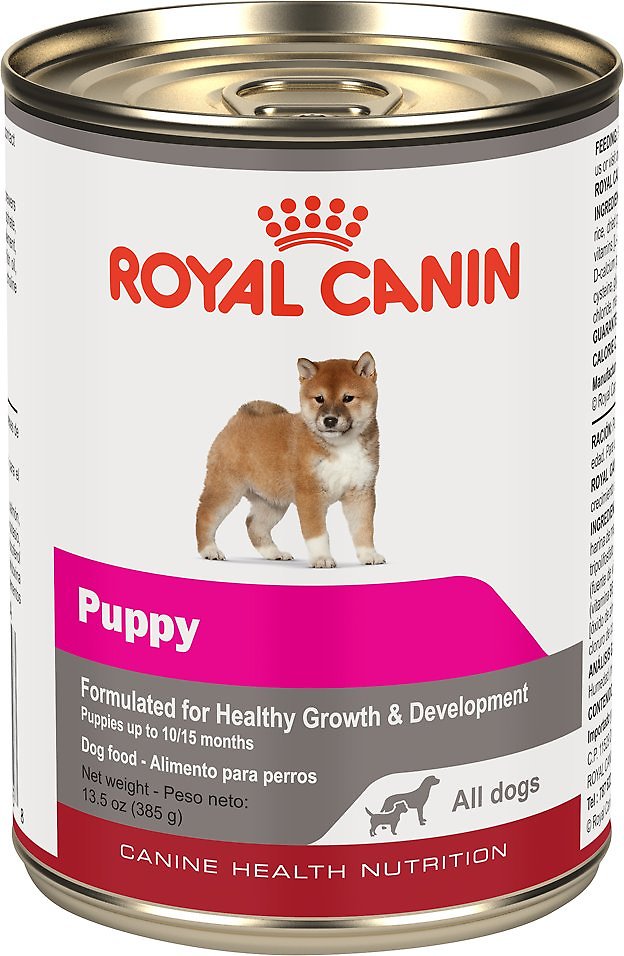 Your Maltipoo puppy may prefer something softer than kibble, or maybe you want to mix wet and dry dog food for your Maltipoo. If that's the case, the Royal Canin Puppy Canned Dog Food is perfect. It's pate style, so just open the lid and mix as needed.
Royal Canin knows that some Maltipoos have weak immune systems, so they packed this delicious wet food with plenty of taurine and vitamins C and E. Does your Maltipoo puppy have tummy problems? Fish oil and beet pulp have also been added to help with gastro-intestinal development.
This food is recommended for smaller breeds up to 10 months old, so don't forget to switch when your Maltipoo is old enough.
Buyer review: "My puppy LOVES this wet food. He gets wet and dry but this is his favorite part. He always sticks his nose in and eats the eat food first."

Read more at Chewy.com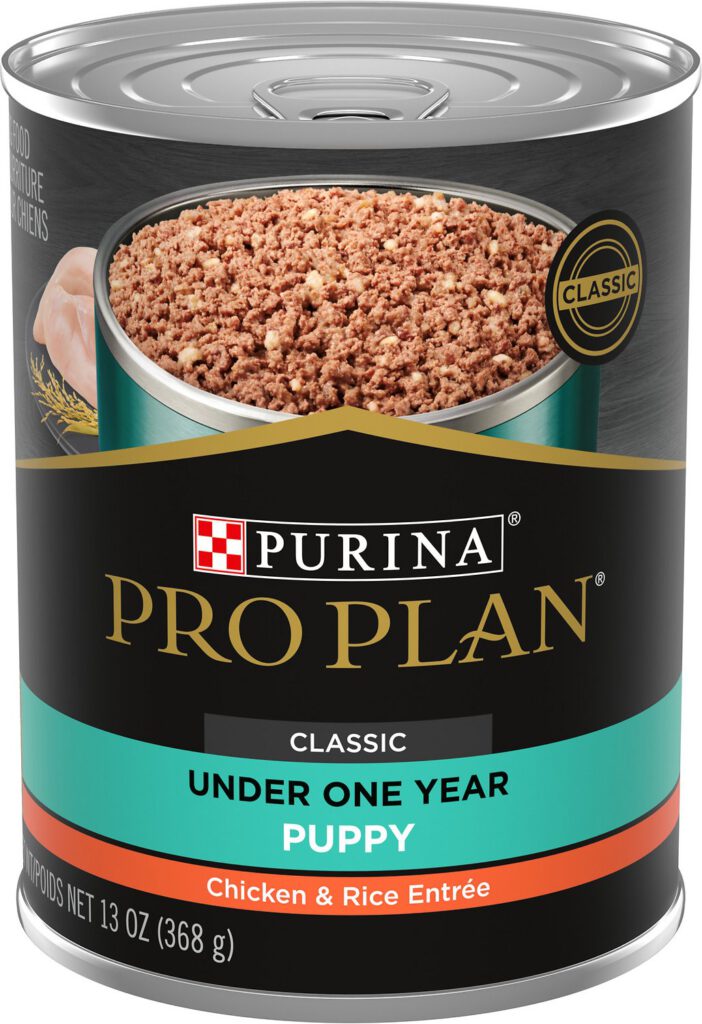 Wet dog food is versatile. You can serve a can directly to your puppy or use it as a delicious topper on kibble. Whatever method you use, your Maltipoo pup will love you for serving Purina Pro Plan Development Puppy Chicken & Rice Entree.
The first ingredient is real chicken, which delivers more than enough protein to support your Maltipoo puppy's lean muscle development. It's also brimming with essential vitamins and minerals. Your pup's coat will be soft and shiny and his skin will be healthy.
It's recommended for any breed up to one year old, which makes it perfect for a young Maltipoo.
Buyer review: "My now 7 month old puppy loves this mushy food and gobbles it up! Same with the Turkey flavor too."

Read more at Chewy.com
FAQ
What can a Maltipoo puppy not eat?
The Maltipoo has the same diet restrictions as most other breeds. Do not give your Maltipoo chocolate or any food or drink that contains caffeine. Avoid giving your pup anything derived from grapes, such as raisins, since they are toxic and may lead to kidney failure. Also be aware that bones may cause choking and can damage your Maltipoo's digestive system if they splinter.
For a more complete list of harmful foods, consult your Maltipoo's veterinarian.
How much should a Maltipoo puppy eat daily?
Your Maltipoo puppy will likely need between 0.5 and 1 cups of kibble daily, depending on weight and age. Similarly, Maltipoo puppies eat between 0.5 and 1.5 cans of wet food daily. Consult the manufacturer recommendations for specific amounts and instructions.
Do Maltipoos have food allergies?
Like all breeds, the Maltipoo is susceptible to food allergies. Wheat, dairy, beef and corn may trigger an allergic reaction in some Maltipoos. Keep an eye out for digestive issues such as diarrhea and vomiting after meals. Itchy skin can also be an indicator that your dog is allergic to his food.
Consult with your veterinarian if you notice these symptoms. The best solution may be to gradually adjust your Maltipoo's diet.
When should you switch a Maltipoo to adult dog food?
Your Maltipoo may be considered an adult when he is 6 months old. However, they may continue growing and developing throughout the remainder of their first year.
Monitor your Maltipoo's weight and activity level and consult with your veterinarian if you have concerns about when to switch your Maltipoo to adult dog food.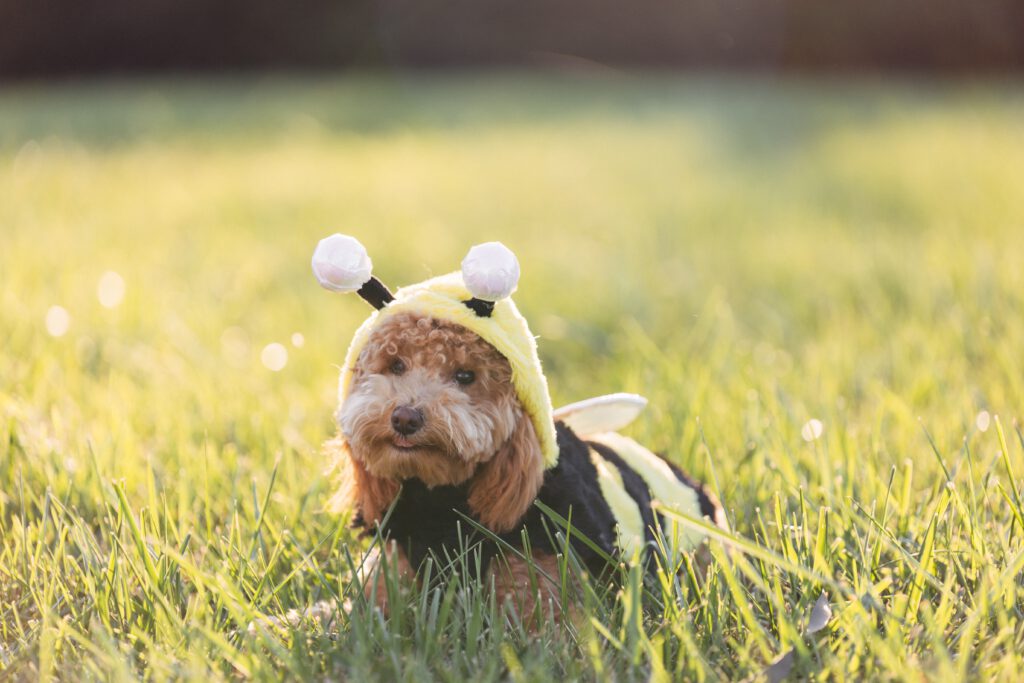 Conclusion
We know you love your little Maltipoo puppy. As we have shown in this article, it's important to choose a dog food that will give your Maltipoo a resilient immune system, a shiny coat, healthy bones and muscles, and plenty of energy. Always read the manufacturer's recommendations and check with your veterinarian to ensure that you have chosen the best dog food for your Maltipoo puppy.